This Month's Focus: Hair Care Items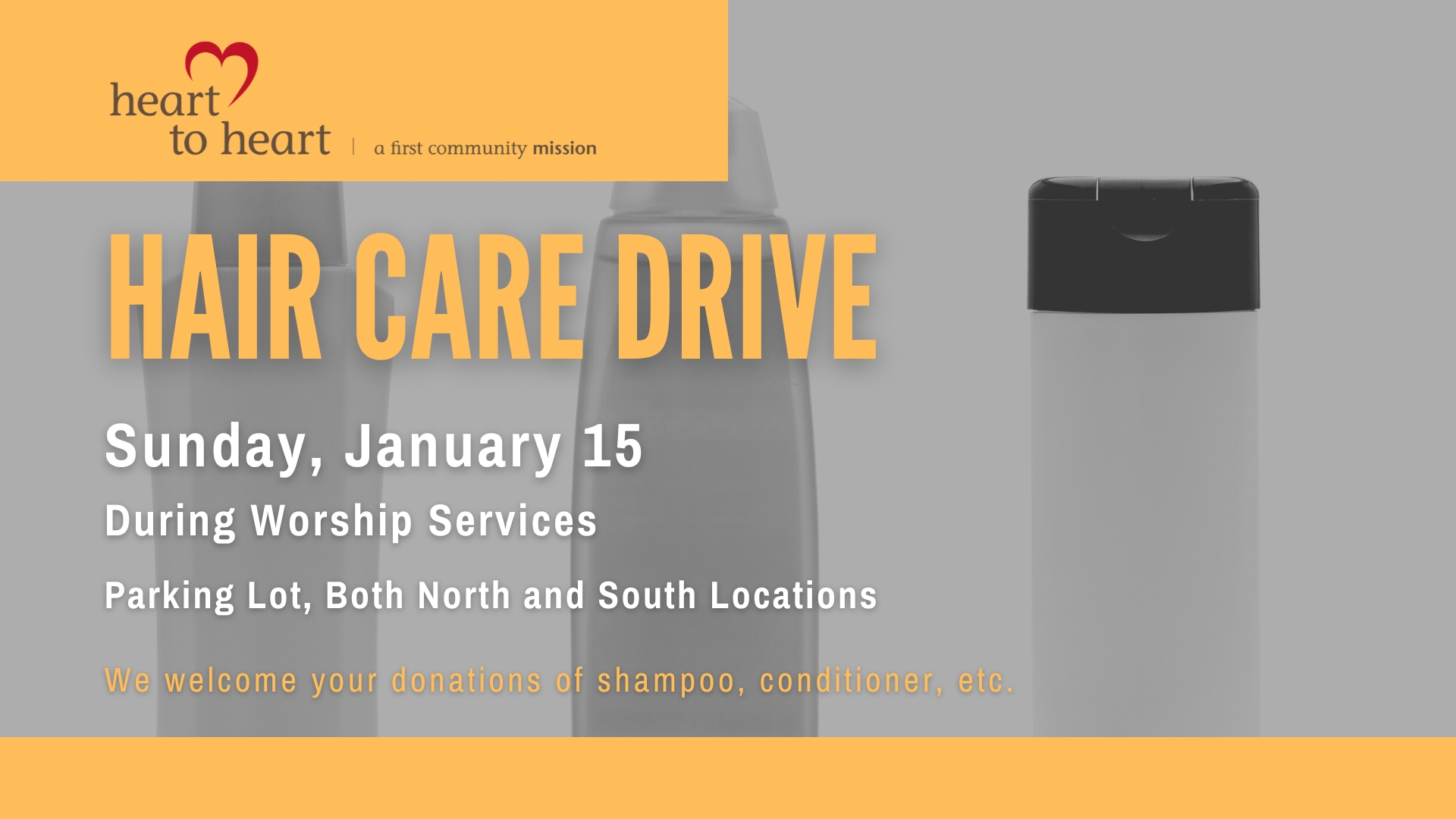 Hair Care Items
We will happily accept standard shampoo and conditioner, however we encourage donors to think about all different hair types and hair care needs. Consider donating shower caps, bonnets, hair oil, gel, dry shampoo, brushes, combs, detanlger, hair masks, curl cream, etc. There are so many different needs and we would love to be able to offer appropriate products to those in need!
Themed Monthly Drives
Every month in 2023, we will focus on collecting a specific type of item(s) each month. We will advertise and encourage those specific donations, while we continue to accept all our typical donations! To encourage even more participation, Heart to Heart food pantry will hold a once-a-month donation collection during Sunday worship services, in an effort to make donating those items easier.
If you are attending services at North, please look for the donation station sign in the parking lot and drop off your donations before you come inside! If you're attending services at South, please look for the donation cart at Crane welcome center, where you can drop off your donation with our volunteer. If you prefer to make a monetary donation online, please click here.
Click the image below to download a printable PDF (or grab a flyer at either church campus) to hang on your fridge! We hope these fun themes will encourage donation participation.
Heart to Heart gladly accepts donations of goods in addition to monetary donations. All non-perishable donations are to be delivered directly to First Community South and left in the alley outside the kitchen on the cart marked for this purpose. There are directional signs in the parking lot.
If you have a perishable donation (fruit, meat, etc.), please drop it off during these times so our volunteers can properly and immediately store them:
Mondays 9 am – 11 am
Wednesdays 2 pm – 6 pm
Fridays 9 am – 1 pm
At this time, the pantry could particularly use:
Peanut Butter and Jelly
Spaghetti noodles and sauce
Pancake mix and syrup
Cereal and shelf-stable milk
Canned Vegetables (not beans)
Canned Hearty Soups
Baby Wipes and Diapers (esp. size 5-7)
Toiletries (toothpaste, soap, lotion, etc.)
Please do not leave donations for Heart to Heart at First Community North.
Click below to read more about how your group or organization can support Heart to Heart through a donation drive.
Food Drive Info
Help provide for a family in need while shopping for yours!
Enroll your Kroger Plus Card and a portion of your purchases will be donated to the Heart to Heart food pantry. Sign up on their website: Kroger.com/communityrewards
The Organization Number is: TB926
FIRST COMMUNITY CHURCH
Kroger Community Rewards
Long Term or Planned Giving
First Community Foundation