On February 9, join us in worship at First Community Church. During each service, we will hear from Director Lamar Graham and take a special offering to go directly to the food pantry.
Donate Online
Join us after worship services on Sunday, February 9 for an open house at Heart to Heart from 11:00am-1:30pm. Enjoy donuts, coffee and the community of the pantry volunteers while seeing what is new and improved in the pantry.
Volunteer Sign Up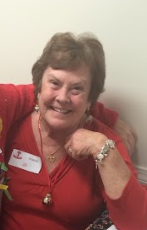 Ever wonder where our name came from or why we set aside February as a special month? Our original director, Jill Thomas (pictured above) was born on Valentine's Day, February 14.  After several years as Project Adelphos, over time the ministry grew and became known as Heart to Heart due, in part, to Jill. Also, the goal of the ministry was originally to connect individuals one-on-one. While we no longer use that model, we continue to promote the idea of community, connection and love.
DO JUSTICE.
LOVE KINDNESS.
WALK HUMBLY.