Weekly Numbers
Households served via Drive-Thru
53 on Tuesday, June 27
43 on Thursday, June 29
Households served via Pop-Up Pantry
39 at Southpoint on Wednesday, June 21
27 at Grand on Wednesday, June 28
Volunteers Needed
Click the button below to view open shifts and sign up to volunteer online!
Monday, July 3
10:00 am – 1:00 pm Mission Workday
Thursday, July 6
8:00 am – 9:00 am MOFB Shop-Thru (1)
8:30 am – 10:30 am Drive-Thru (1)
Friday, July 7
9:00 am – 10:00 am Direct Retail Pickup (1)
Click here to access SignUpGenius
Food Assistance Eligibility
Every year, the TEFAP Eligibility and TEFAP Guidelines are updated resulting in the creation of new forms to be used by food assistance programs. These new forms have been released and beginning today, Saturday July 1st, we MUST begin using the new 2023 forms for TEFAP Eligibility and TEFAP Guidelines. Since our agency uses PantryTrak/FreshTrak the form will be automatically updated and our procedure will remain the same.
Should the FreshTrak system (or simply should our WiFi go down), Heart to Heart is required to use paper forms to replace electronic check in. Check the bottom left side of the form for the correct date. The new forms should read: JFS 04221 (Rev. 7/2023) or JFS 04224 (REV. 7/2023) All other forms that do not have the Revised Date need to be discarded and no longer used.
You are encouraged to take this opportunity to educate yourself about food assistance eligibility and poverty guidelines. Please review the table below or click the links to view complete forms.
Pop-Up Pantry July Calendar
Click image to enlarge.
Pancake Breakfast
The Tri-Village Lions Club will hold a Pancake Breakfast:
Saturday, July 22nd, 8:00 AM – 12:00 PM.
Grandview High School, 1587 Third Ave.
Tickets are $8/adults, $4/children 5-12.
You can also donate tickets so Heart to Heart food pantry clients can enjoy an old-fashioned pancake breakfast, and the Tri-Village Lions will match your donation! For just $20, 6-8 adults/children will eat.
To pledge $20 and get information on payment, contact Jane Jarrow at lionjjarrow@gmail.com or 614-571-5681.
Please note that donations for this activity cannot be accepted at Heart to Heart food pantry. You must use the contact information above to make a donation!
MOFC Podcast
Did you know Mid-Ohio Food Collective has a podcast? Since January, MOFC has been producing their podcast Everyone At The Table.  If you're interesting in advocacy work, this is an informative listen.
The podcast's most recent episode "The $15 Million Question: The statehouse's impact on hunger and how to be an advocate"focuses on the potential impact of the state budget and what it could mean for the future of hunger in Ohio.
Click to listen and download.
Training Opportunities through Mid-Ohio Food Collective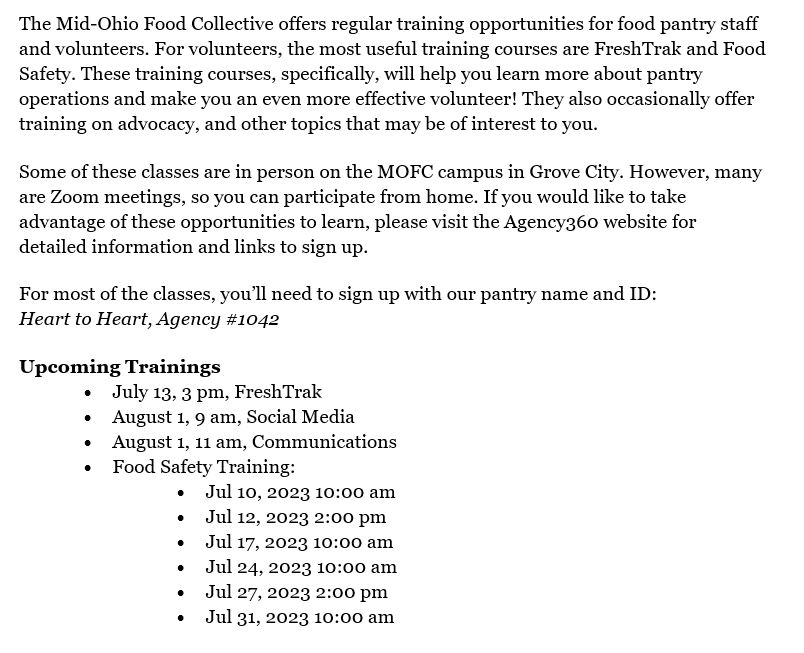 Sign up at Agency360
Monthly Collection Drives
If you are attending services at North, please look for the donation station sign in the parking lot and drop off your donations before you come inside! If you're attending services at South, please look for the donation cart at Crane welcome center, where you can drop off your donation with our volunteer.
Learn more
Sexual Abuse Prevention Training
The safety of the children we serve is our top priority, so anyone who volunteers with children or is a staff member (whether you work with children or not) at First Community is required to attend our Darkness to Light sexual abuse prevention training. Re-certification for staff or volunteers who work with children is required every three years.
Register for Training