Service Statistics
Households served via Drive-Thru
42 on Tuesday, January 4
52 on Thursday, January 6
Households served via Pop-Up
35 on Wednesday, January 5
Monthly Statistics
Click here to view our complete service and volunteer statistics for December.
Volunteer of the Month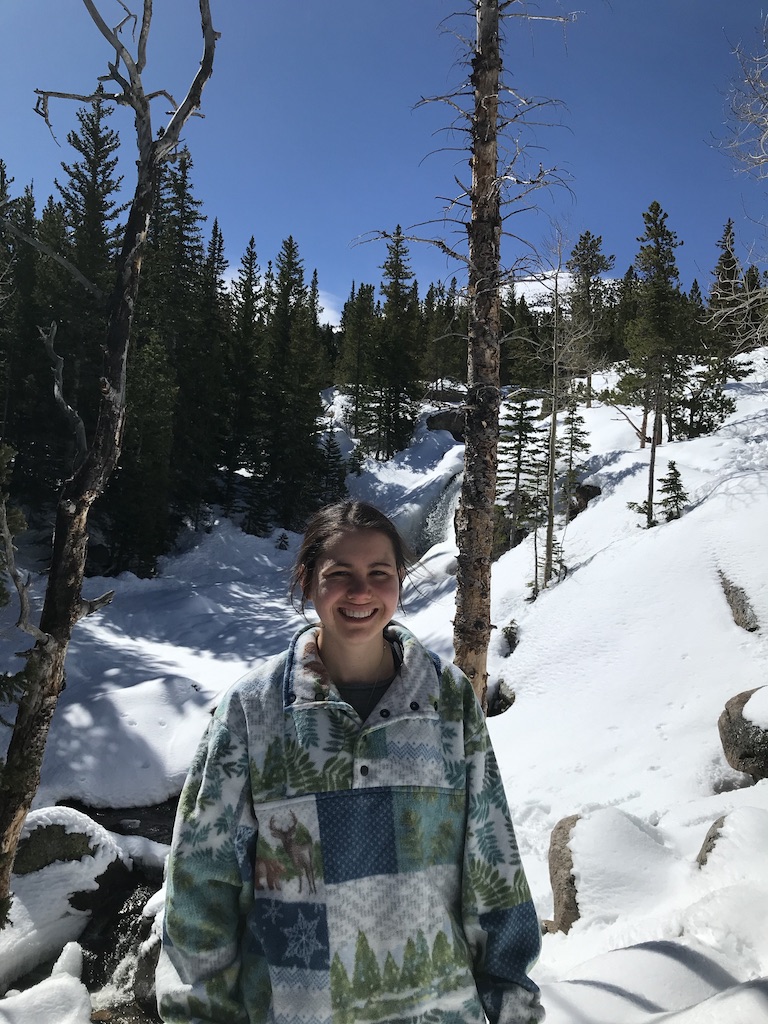 Congratulations to our Volunteer of the Month for January, Emma Ponitz. Read what Emma has to say about volunteering with us here.
A Message to the First Community Staff
All, you may have heard that the CDC has updated their policies with respect to quarantine and isolation.  The chart here details the new guidelines which we will follow.
Masks provide one of the best means of protection. We want to continue to stringently enforce the mask mandate, especially during worship and other gatherings. There is now quite a lot of information about the type of mask that is the most effective, mostly due to the highly contagious Omicron variant. Obviously, the best is the N95, followed by the disposable blue surgical masks.  A cloth mask does not provide much protection. You may want to think about what kind of mask you are wearing, especially if you are in a public setting around people for more than 15 minutes. I have gone to wearing the N95 mask in church and when I go to events.  I will wear a cloth mask if I am walking in a hallway from my office or in a store.   Why you should upgrade your mask as the Omicron variant spreads – CNN
Lastly, because of the mask mandate, we do not want to be providing any [served] food or refreshments. Not because there can be transmission from the preparation of the food, but because people will be unmasked while consuming the food or drink. We hope we can lift this requirement once the surge is behind us.
Please let me know if you have any questions. Be safe and have a Happy New Year!
Paul R. Anderson, CPA, CAP
Executive Director of Operations, First Community Church
Covid-19 Update for our Heart to Heart community
Pop UPdate
The Pop Up Pantry team delivered food directly to families at the following agency sites during the month of December:
December 1:  Commons at Livingston-38clients
December 8:  Hope Recovery Services-25 clients
December 15: Southpoint Village Apartments-38 clients
December 22: Commons at Grant-28 clients
December 23: Riverview International Center-30 clients
Monthly totals for 2021:
January 144
February 135
March. 121
April. 130
May. 127
June. 124
July. 132
August. 132
September. 150
October. 178
November. 182
December 159
The Pop Up Pantry was created in July of 2020. The vision of our six founding volunteers was to expand Heart to Heart's outreach to families within their local communities during the COVID-19 pandemic. During 2021, our volunteer team served food to a total of 1714 families.  Since it's inception, over 2400 families have been served through the Pop Up Pantry. We are grateful for the agencies who've worked with us to reach out to these families, including National Church Residences, Hope Recovery Services, Franklinton Farms and Riverview International Center.
In addition to weekly food deliveries, the Pop Up Pantry conducted its second annual Christmas gift and toy drive for the children of families at Southpoint Village Apartments, one of our agency sites. Southpoint is a supported housing complex for those with disabling mental illness, chemical dependence or chronic homelessness. At the start of the drive, families identified "wish lists" of toys and gifts for their children.
Again this year, 100% of the "wish lists" of gifts were fulfilled thanks to the generosity and goodwill of students, families and staff at Wickliffe Progressive Elementary School as well as Women's Guild Groups D and RSZ, Share and Learn Garden, church members and friends. 172 toys and gifts for 86 children were delivered by the Pop Up Pantry team to the families at Southpoint. In addition, we were blessed to receive several monetary donations which enabled us to purchase gift cards for all 27 families who participated in the gift drive.
Under the capable leadership of Rose Kandel, the Pop Up Pantry team members, who worked tirelessly to coordinate this Christmas initiative, were Carla Edlefson, Kathleen Hatcher, Kitty Rohrer, Janice Rook, Melody Smiley and Mark Tucker. We are grateful for the assistance of Sarah Oberlin and Amy Miller, who coordinated the drive at Wickliffe, as well as our church family and friends who helped to make Christmas wishes come true for these children.
Also in December, Pop Up Pantry founding volunteers made monetary donations to two of our agency sites, Hope Recovery Services and Riverview International Center. These donations were made in honor of our wonderful volunteers who drive the church van and transport food each week to our sites: Glenn Zook, Steve Young, Mark Tucker, Boyce Lancaster and Leslie Sauer.
In January, our Pop Up Pantry will be delivering food to our agency sites on the following dates:
January 5, 11a-2p, Commons at Livingston (1st Wednesday)
January 12, 10a-2p, Hope Recovery Services (2nd Wednesday)
January 19, 11a-2p, Southpoint Village Apartments (3rd Wednesday)
January 26, 11a-2p, Commons at Grant (4th Wednesday)
January 27, 12:30p-3:30p, Riverview International Center (4th Thursday)
Through the ongoing support and commitment of our volunteers and the church, we look forward to continuing to serve and expand this outreach ministry of Heart to Heart during 2022.
MLK Day is Monday, January 17
On January 17, we celebrate the lasting impact of Rev. Dr. Martin Luther King. The church will be closed for the holiday, and for a few Monday holidays thereafter. In 2021, we developed an alternative schedule that allows us to have the holiday off while still being prepared to serve clients on the following Tuesdays.
We understand not everyone who regularly volunteers on Mondays and Fridays will be able to make the change to their own schedules. However, the holidays are so few that we are able to make it work! We will cancel all shifts Monday, January 17, and add the following:
Friday, January 14, 10-11:30 am Preshop Shift
Friday, January 14, 11:30 am Stocking Shift
Tuesday, January 18, 7:45 am – 8:30 am Direct Retail Pickup
2022 Calendar
The following are dates Heart to Heart will be closed for all volunteer and client service activity in 2022:
Martin Luther King, Jr. Day (01/17/22)
President's Day (02/21/22)
Good Friday (04/15/22)
Easter Monday (04/18/22)
Memorial Day (05/30/22)
Independence Day (07/04/22)
Labor Day (09/05/22)
Annual Pantry Closure (09/12 – 16/22)
Indigenous Peoples Day (10/10/22)
Veterans Day (11/11/22)
Thanksgiving (11/24 – 25/22)
Christmas (12/26/22 – 1/2/23)
Closings 2022
Emergency Closings
Christmas Miracle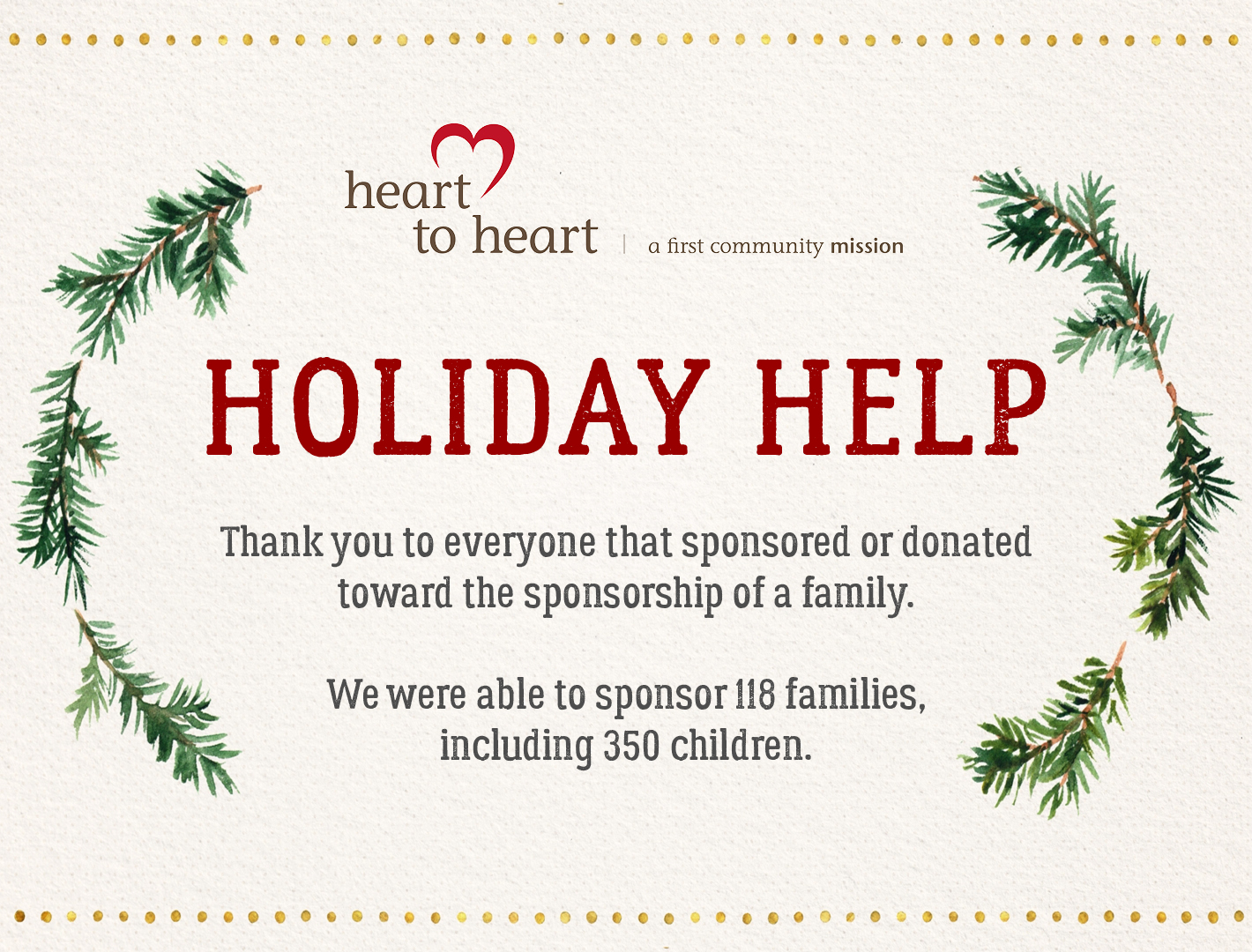 And what does the Lord
require of you
But to do justice,
To love mercy,
And to walk humbly
with your God?
Micah 6:8 NKJ
Our mission at Heart to Heart is to respond to God's commandment to love one another.
Our vision of Heart to Heart is to model God's love by:
Cultivating a loving community
Honoring individual gifts
Feeding bodies and souls
…and seeing everyone as a child of God
In accordance with Federal law and U.S.D.A. policy, this institution is prohibited from discriminating on the basis of race, color, national origin, sex, age, religion, or disability.