Souperbowl Sunday
February 12 Heart to Heart food pantry is holding a soup drive during all worship services. Look for the team's volunteer quarterbacks at collection sites out in the parking lot at both locations to drop off your donations on your way in or out. We would love hearty meal-type soups, and our Pop-Up Pantry is particularly interested in soup in pop-top cans for those without kitchens and/or can openers to use. Also, for a $5 donation (cash or check), you can become the proud owner of a one-of-a-kind soup bowl or mug! These have been lovingly decorated by First Community Church's Midweek Mission (K-8 grade) and Crossroads (6-12 grade) students for this special occasion. Which service will donate the most soup?! Heart to Heart wins, regardless of the final score.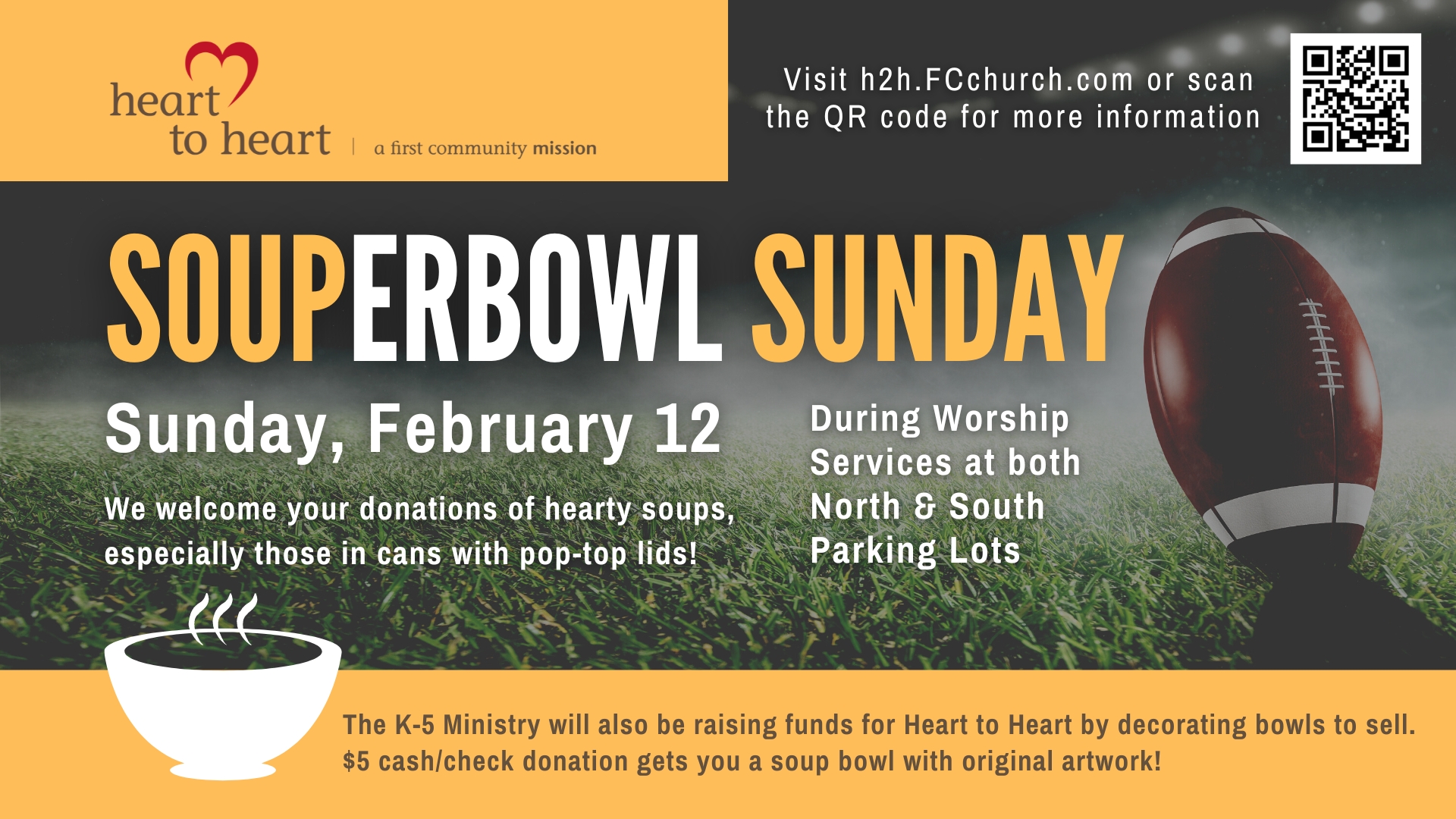 more info
You're Invited
Volunteers are the key to the success of Heart to Heart food pantry. On February 16, allow us to show our appreciation at our Volunteer Appreciation Dinner. Prior to the pandemic, we hosted this dinner annually, and we are so happy to bring it back! Please plan to join us at First Community North in Grace Hall for a meal and casual fellowship with one another. Yohan and Amy will provide some information during the meal, and you'll have an opportunity to ask questions and discuss. Plan to take the night off from cooking and dishes as we turn the tables to serve you. Please RSVP below by Monday, February 13.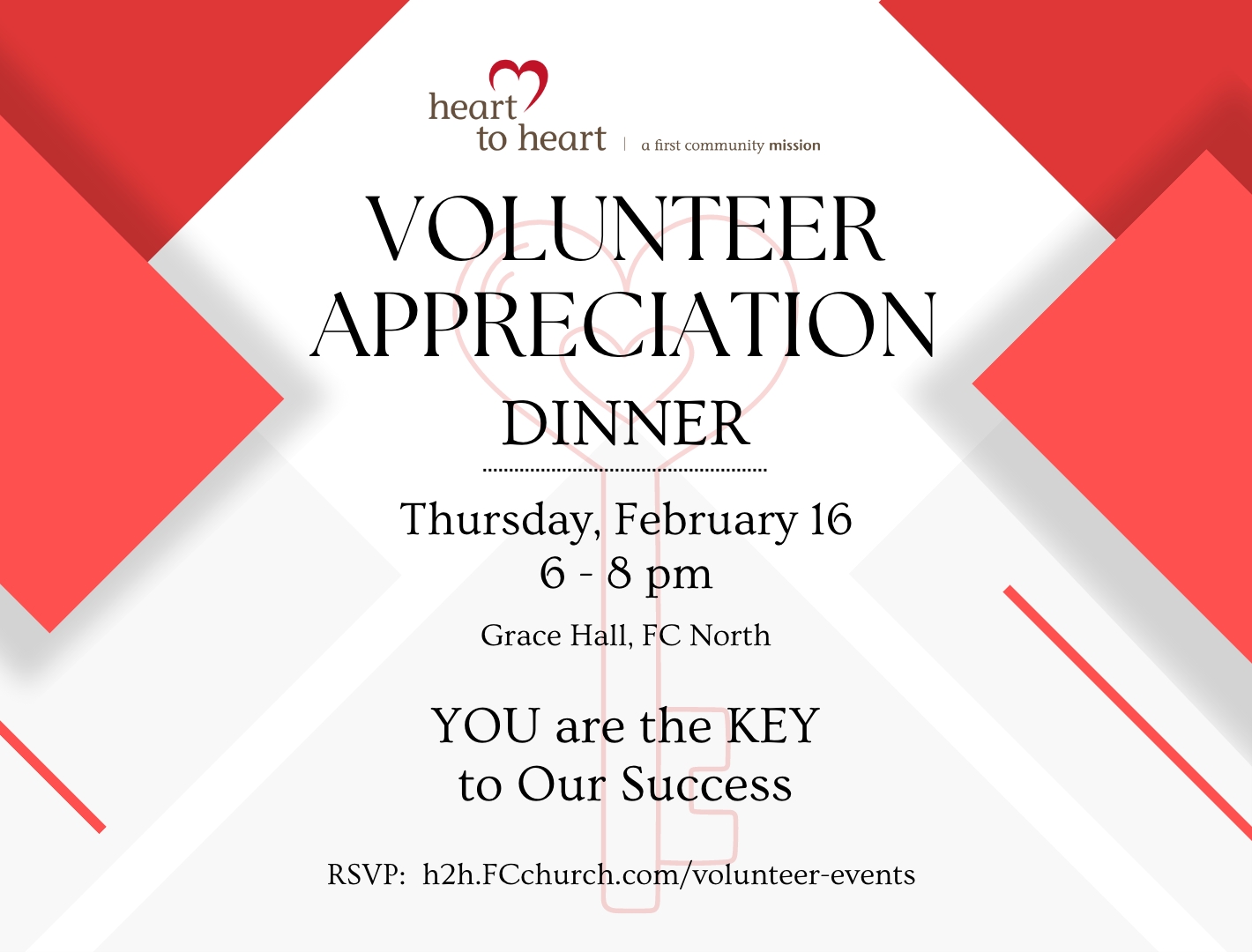 RSVP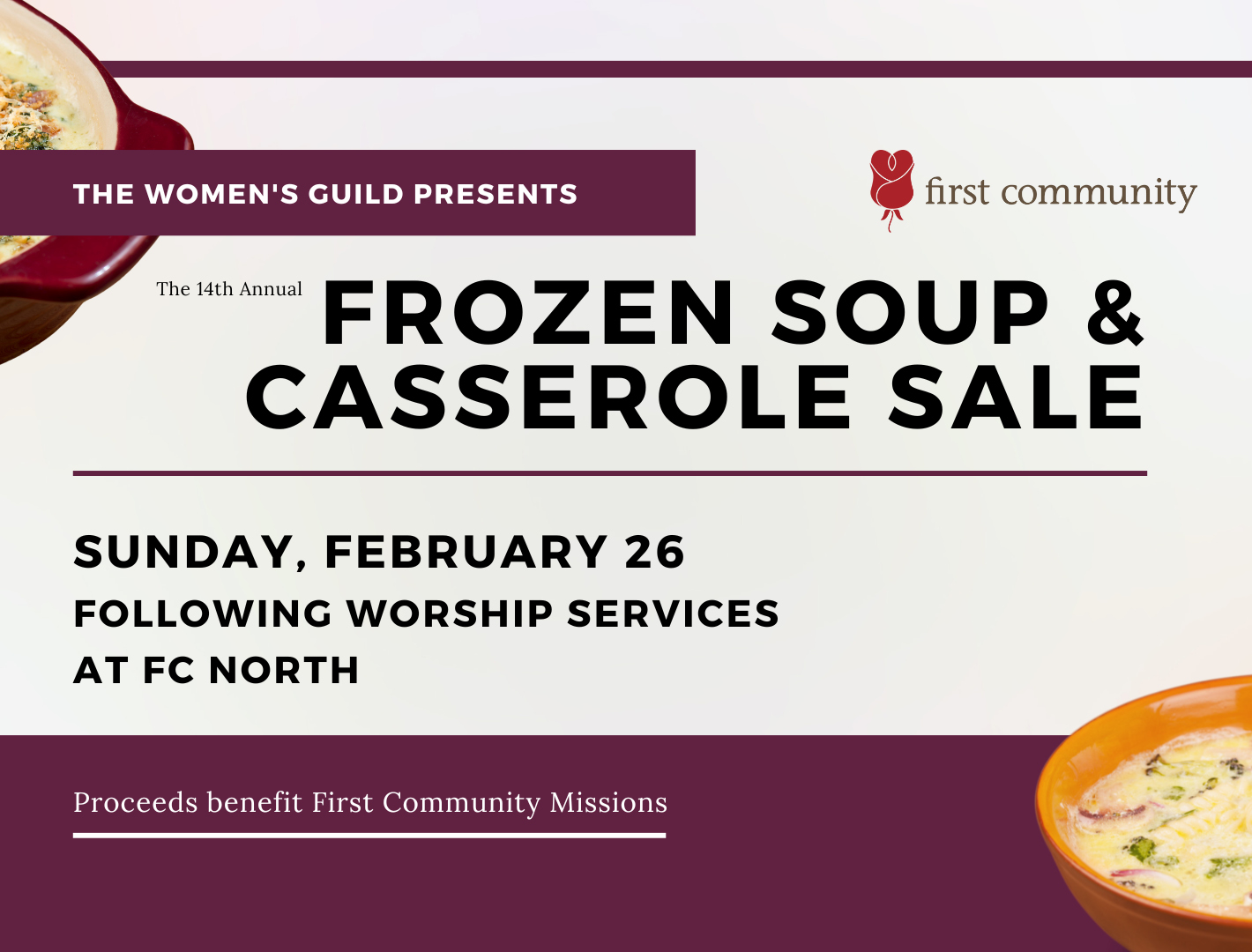 Weekly Numbers
Households served via Drive-Thru
27 on Tuesday, January 31
24 on Thursday, February 2
Households served via Pop-Up
31 on Wednesday, February 1
Total individuals served in January:  1606
Seniors (age 60+): 199
Adults (18 – 59): 815
Children (birth – 17): 592
Volunteers Needed
Please check to see when you can help, then use the button to access the Sign-Up Genius!
Monday, February 6
8:30am-

9:30am Cold Stocking (1)
Tuesday, February 7
8:30-10:30 am Drive-Thru (4)
10:00 am – 12:30 pm Drive-Thru (6)
Wednesday, February 8
1:00 – 2:00 pm MOFB Shop-Thru (1)
Thursday, February 9
8:30 – 10:30 am Drive-Thru (5)
10:00 am – 12:30 pm Drive-Thru (4)
Click here to sign up
Training Opportunities
The Mid-Ohio Food Collective offers regular training opportunities for food pantry staff and volunteers. For volunteers, the most useful trainings are FreshTrak and Food Safety. These trainings, specifically, will help you learn more about pantry operations and make you an even more effective volunteer! They also occasionally offer training on advocacy, and other topics that may be of interest to you.
Some of these classes are in person on the MOFC campus in Grove City. However, many are Zoom meetings, so you can participate from home. If you would like to take advantage of these opportunities to learn, please visit the Agency360 website for detailed information and links to sign up.
For most of the classes, you'll need to sign up with our pantry name and ID:
Heart to Heart, Agency #1042
Upcoming Trainings
Feb 14, 9am, FreshTrak
Feb 21, 9:30am, Better Relationships
Mar 13, 9:30am, Advocacy
Mar 14, 2pm, FreshTrak
Click here to access Agency360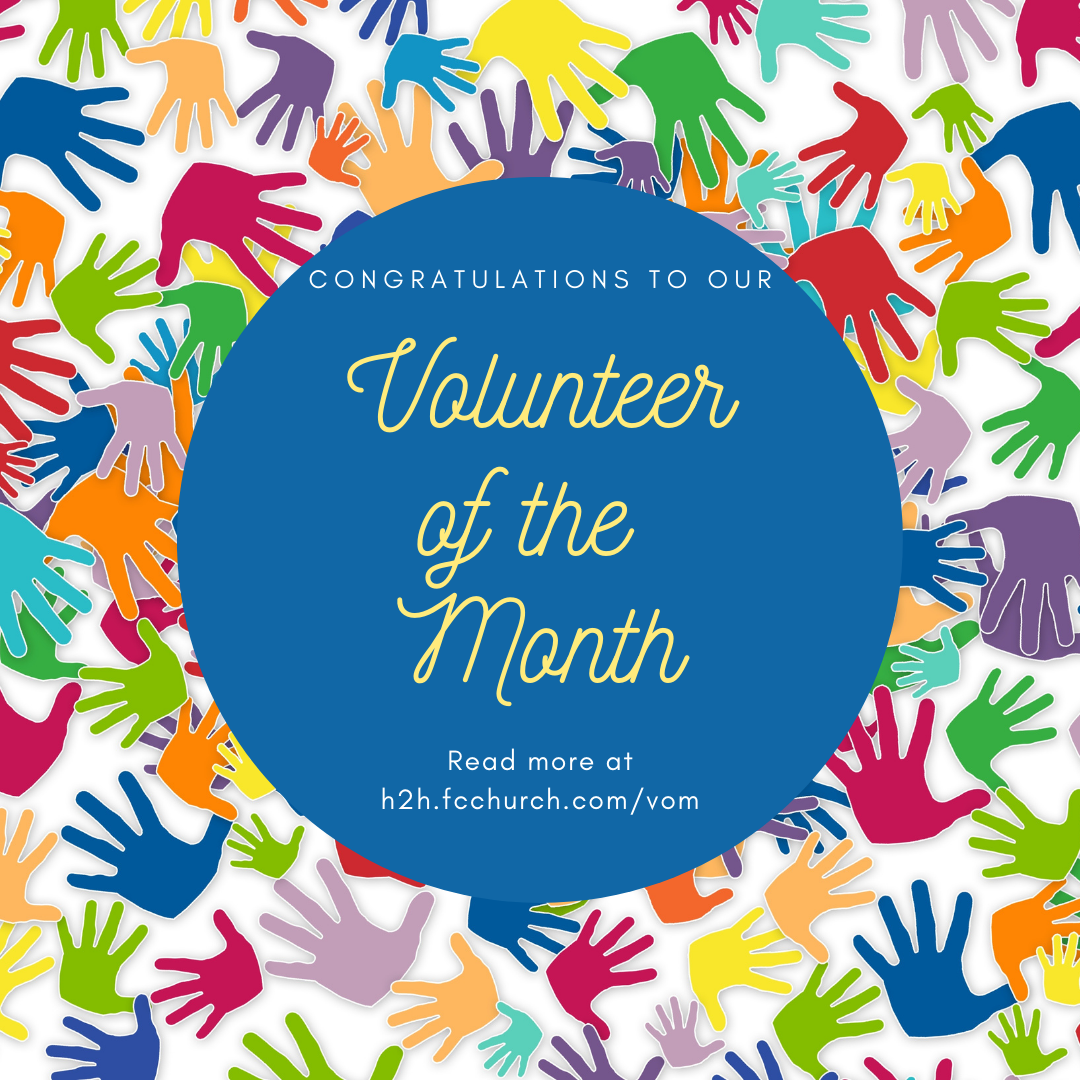 Pop UPdate
In January, the Pop Up Pantry, delivered to the following sites:
Jan 4:        Commons at Livingston – 35
Jan 11:      Hope Resource Center – 33
Jan 18:      Southpoint – 39
Jan 25:      Grant – 20
Jan 26:      Riverview International Center – 26
Pop Up 2023 Monthly totals:
YTD:     Individuals/families served:  153
Our Pop Up Team's 2023 began with the loss of our volunteer Carla Edlefson's husband, Robert Barrow.  It is times like these that we hold our team of volunteers close.  We truly count on each other for friendship, love and support.  We continue to hold Carla and her family close in our hearts and in our prayers.
We welcomed new volunteers to our Pop Up Team:  Pam and Tom Dobies, Beverley Ervine and Pam Vazsonyi.  They are a great addition to our team.
Kathleen Hatcher received a donation of socks from Jim Taranowski.  We took them to our Hope Resource Center.  Our friends and neighbors were so excited to receive them.
Our team of volunteers continue to come and give of their time and energy each month.  We are so blessed by their service and dedication.
The Pop Up Team looks forward to another year of serving our neighbors.
~Rose and Melody
And what does the Lord
require of you
But to do justice,
To love mercy,
And to walk humbly
with your God?
Micah 6:8 NKJ
Our mission at Heart to Heart is to respond to God's commandment to love one another.
Our vision of Heart to Heart is to model God's love by:
Cultivating a loving community
Honoring individual gifts
Feeding bodies and souls
…and seeing everyone as a child of God
In accordance with Federal law and U.S.D.A. policy, this institution is prohibited from discriminating on the basis of race, color, national origin, sex, age, religion, or disability.