Service Statistics
Households served via Drive-Thru
55 on Tuesday, March 22
40 on Thursday, March 24
50 on Tuesday, March 29
40 on Thursday, March 31
Households served via Pop-up
28 on Wednesday, March 23
Volunteer Opportunities
We still need help with some shifts next week. The number of volunteers needed is indicated in parenthesis after the shift time and description.
Monday, April 4
8:45 – 9:30 am Cold Stocking Shift (2)
9:30 – 10:30 am   Mid-Ohio Foodbank Shop Thru (1)
10:30 – 11:30 am Set Up Shift (2)
Tuesday, April 5
10:00 – 12:30  pm Drive-Thru (4)
Thursday, April 7
10:00 – 12:30  pm Drive-Thru (3)
Friday, April 8
9:00 – 10:00 am Direct Retail Pickups (2)
9:30 – 10:30 am  Cold Stocking Shift (2)
9:30 – 10:30 am  Preshop Shift (3)
Volunteers Click Here to Sign-Up!
Pop UPdate
The Pop Up Pantry team delivered food directly to families at the following agency sites during the month of March:
March 2:     Commons at Livingston-35
March 9:     Hope Resource Center-28
March 16:    Southpoint Village Apartments-33
March  23:   Commons at Grant-28
March 24:   Riverview International Center-30
Monthly totals for 2022:
January: 161
February: 159
March: 154
On March 2, the Pop Up Pantry team met with Heart to Heart leadership, a Trading Post volunteer, and a donor who provides generous donations of needed items for the drive thru, Pop Up Pantry and Trading Post each week.  The process for requesting donations from this special donor was clarified during the meeting. Further, the process for providing produce to one of our Pop Up Pantry sites was discussed.
Team members continued to provide clothing items to Hope Resource Center (Hope) in March. We're proud that Hope was featured in a recent Columbus Dispatch article.  We pray this brings greater awareness of the the growing needs within our community for help to those with drug addiction, mental illness and homelessness.
We're planning for return to our seasonal site, Franklinton Farms, later this spring. We've been serving this site on the second Thursday of each month and don't anticipate any changes to this schedule.  We'll  provide updates as we get closer to a restart date.  As Franklinton Farms grows their own produce, the Pop Up Pantry provides only dry goods.
In April our Pop Up Pantry will be delivering food to our agency sites on the following dates:
April 6: Commons at Livingston (1st Wednesday)
April 13: Southpoint Village Apartments
April 20: Hope Resource Center
April 27: Commons at Grant (4th Wednesday)
April  28: Riverview International Center (4th Thursday)
Our dedicated and faithful team of volunteers have embraced the mission of Heart to Heart, working together to serve families in the local community.  We continue to be blessed by their commitment and teamwork to this outreach ministry.
Volunteer Trainings
This training will be taught by Julie Richards, Director of K-5 Ministry at First Community Church. The safety of the children we serve is our top priority, so anyone who volunteers with children or is a staff member is required to attend our Darkness to Light sexual abuse prevention training. Re-certification for staff or volunteers who work with children is required every three years. Please register to attend one session at First Community North.
Darkness to Light
Monday, April 11, 6:30- 8:30 pm
Read More | Register
This training class is provided by Nationwide Children's Hosptial. Darkness to Light's Stewards of Children is an evidence-informed prevention solution that increases knowledge, improves attitudes, and changes child protective behaciors. The training combines two 45 minute video sessions filled with real people and real stores along with a 30-minute virtual discussion about protecting children. During the discussion, you'll receive a list of local resources to support healthy, happy kids.
Stewards of Children
April 13, 5 – 7:30 pm
June 18, 10 am – 12:30 pm
Visit FamilySafetyandHealing.org for registration information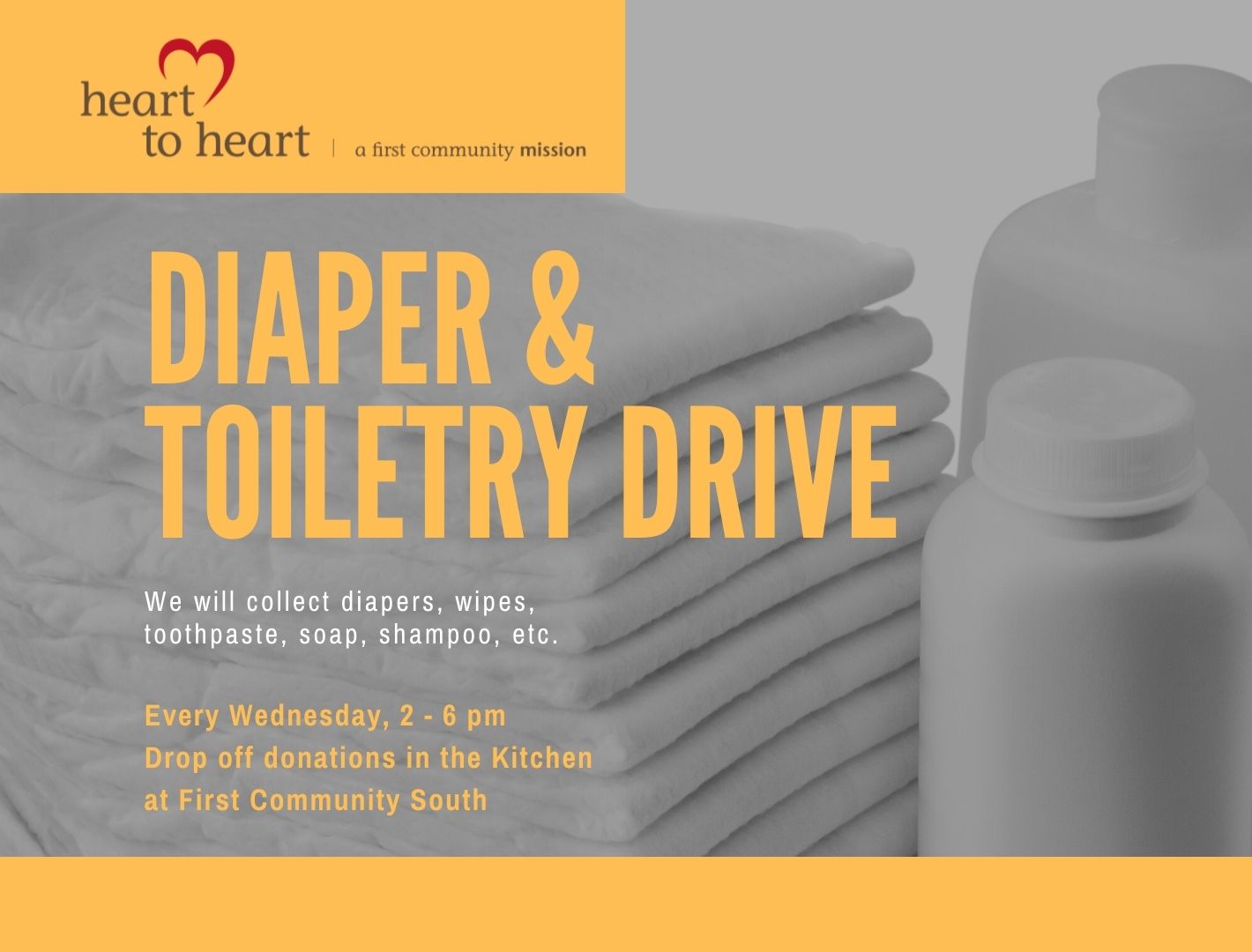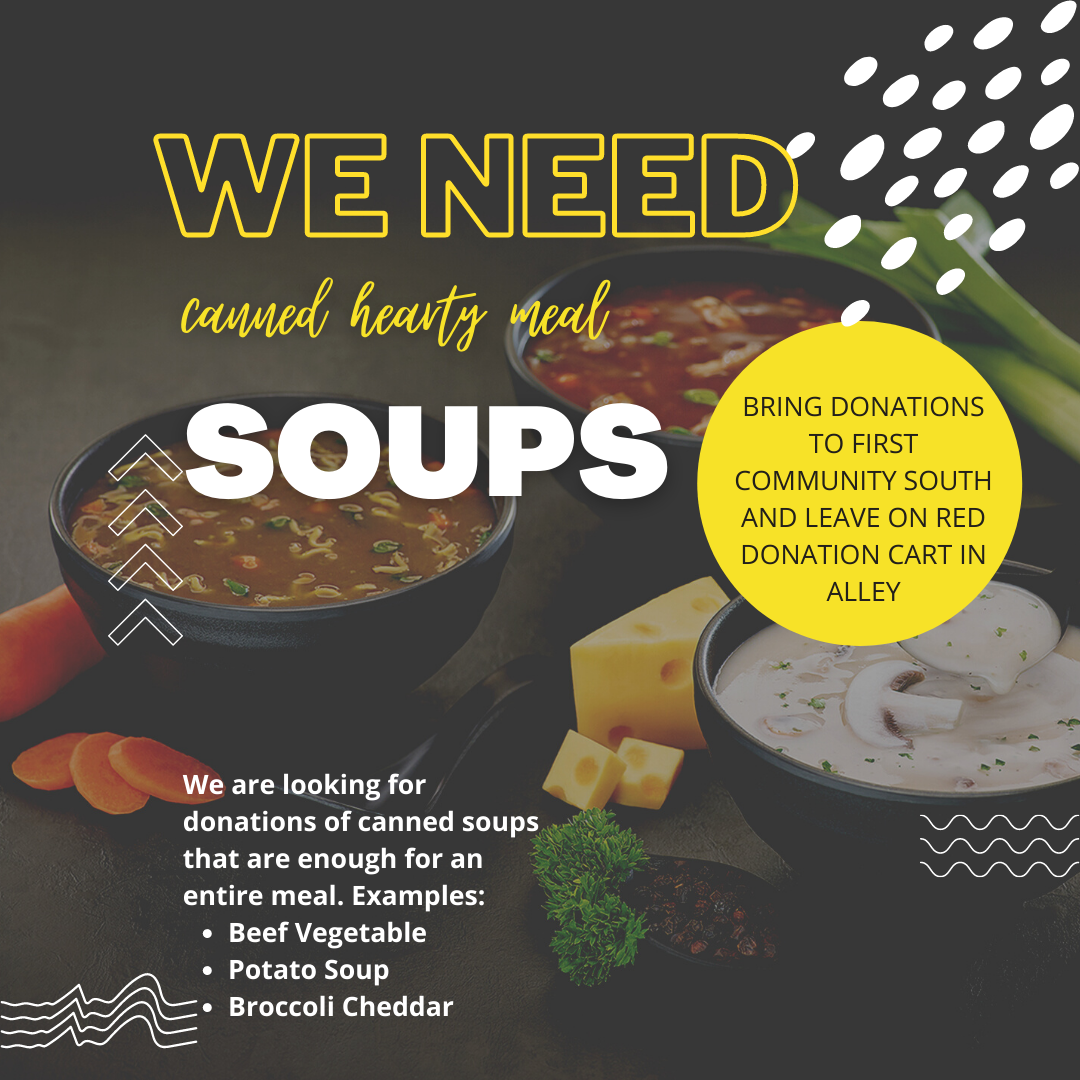 And what does the Lord
require of you
But to do justice,
To love mercy,
And to walk humbly
with your God?
Micah 6:8 NKJ
Our mission at Heart to Heart is to respond to God's commandment to love one another.
Our vision of Heart to Heart is to model God's love by:
Cultivating a loving community
Honoring individual gifts
Feeding bodies and souls
…and seeing everyone as a child of God
In accordance with Federal law and U.S.D.A. policy, this institution is prohibited from discriminating on the basis of race, color, national origin, sex, age, religion, or disability.