Volunteers Needed
These are the spots we still need filled for the week!
Monday, November 13
8:30am- 9:30am Cold Stocking Shift (2)
12:30pm- 2:00pm MOFB Order Unloading (8)
5:00pm- 6:30pm Shop & Stock (3)
Tuesday, November 14
8:30am- 10:30am Drive-Thru Volunteer (5)
10:00am- 12:30pm Drive-Thru Volunteer (6)
Wednesday, November 15
1:00pm- 2:00pm Mid-Ohio Foodbank Shop-Thru (1)
Thursday, November 16
8:30am- 10:30am Drive-Thru Volunteer (5)
Friday, November 17
9:30am- 10:30am Cold Stocking Shift (2)
Monday, November 20
EXTRA SHIFT ADDED

1:30pm- 2:30pm Stock Donations from Barrington Elementary School (1)
Sign up to Volunteer
Volunteer of the Month
Congratulations to November's Volunteer of the Month, Drew Poling!
Read the inspiring words Drew had to share about his experience volunteering with us at h2h.fcchurch.com/vom112023
Time Change for Monday's Unloading Shift
Please note: If you got the notification email from SignUpGenius, and are not/cannot sign up to volunteer, you can ignore that. No need to let us know!
$20,000 Match Update
So far, we have received donations totaling $2,236 toward our $20,000 goal. To make a donation online, please visit h2h.FCchurch.com/donate. Thank you to our donors!
Christmas
Click here for a summary of our Holiday Help Program this year to learn how you can participate. Our volunteers have been working hard over the last week to get families signed up.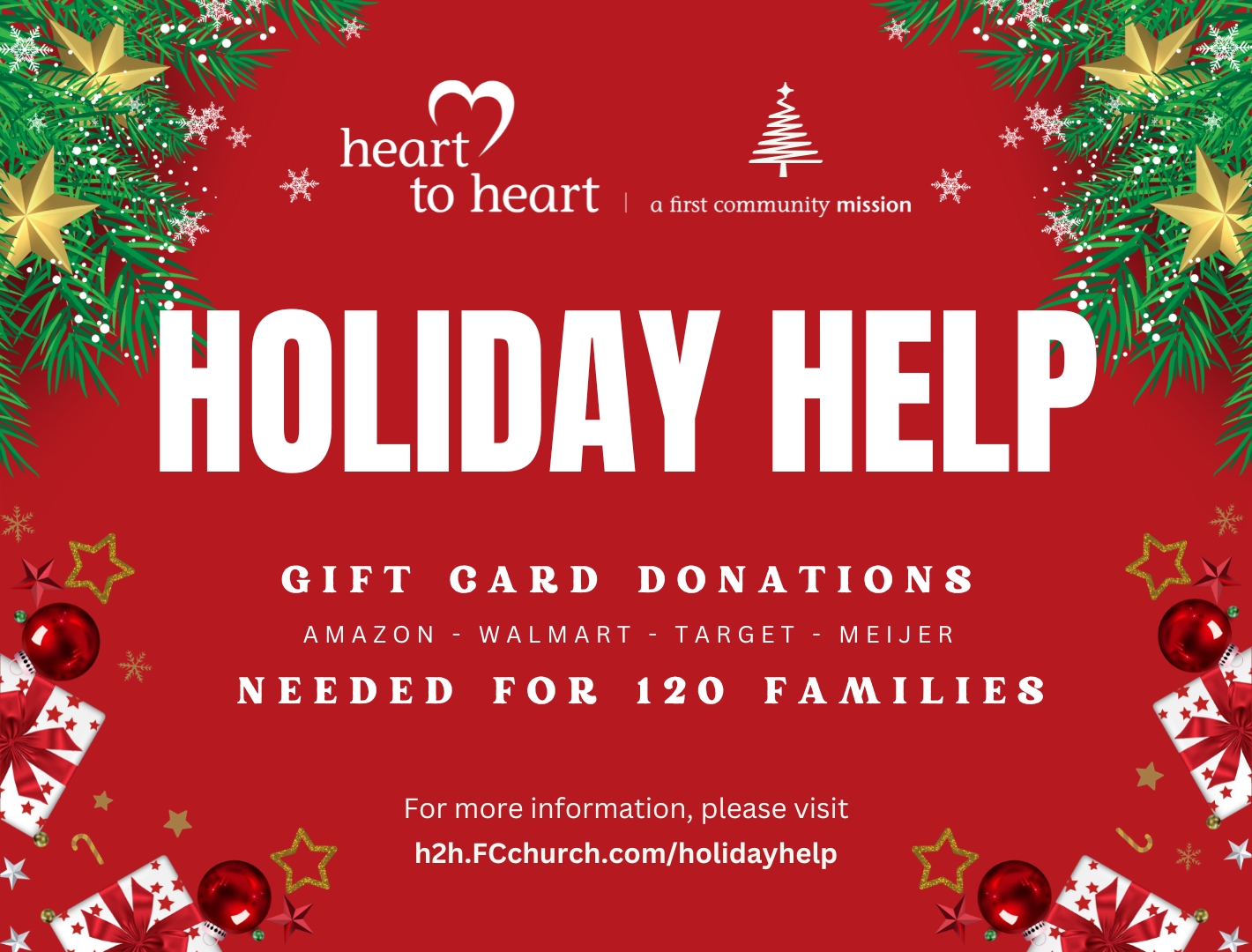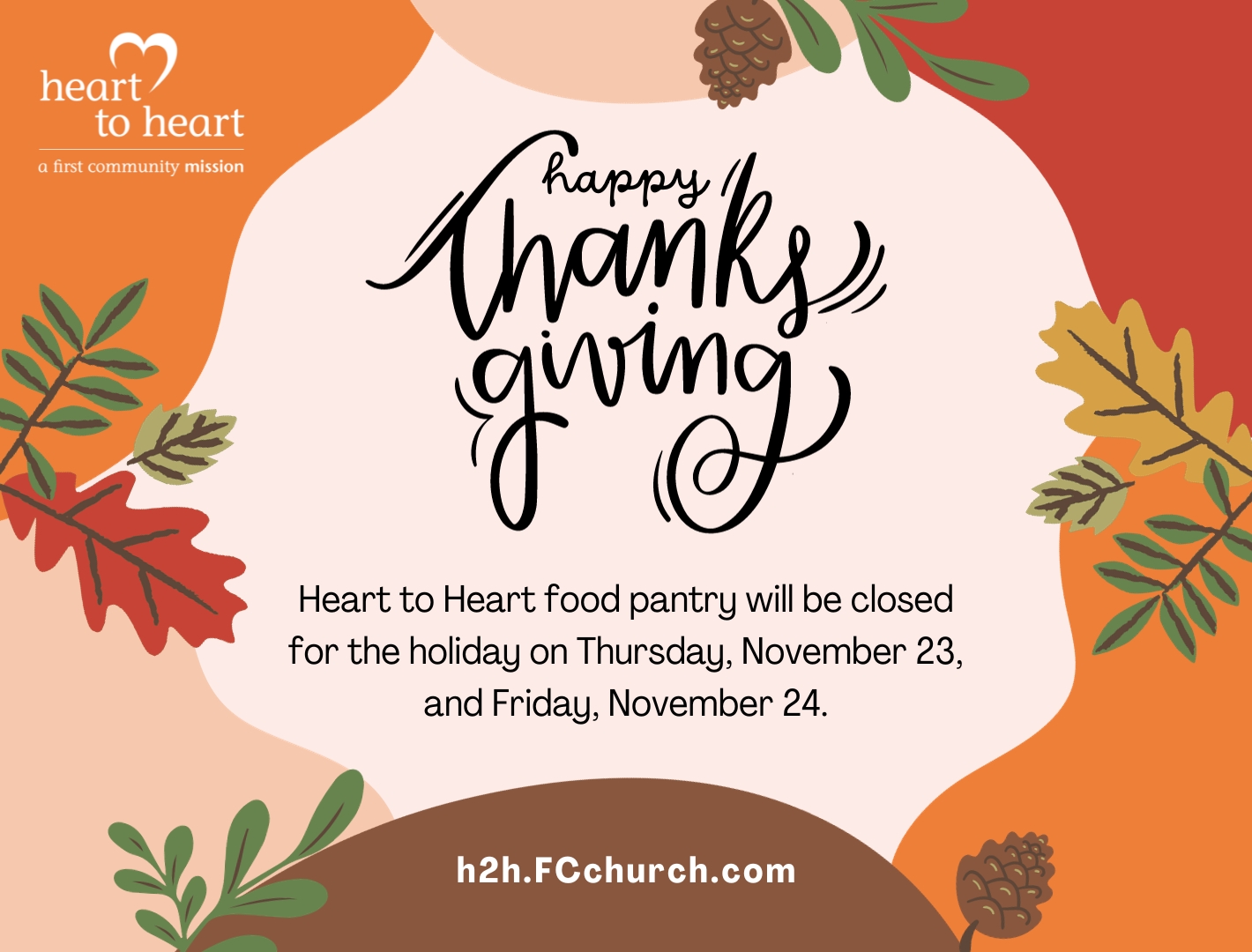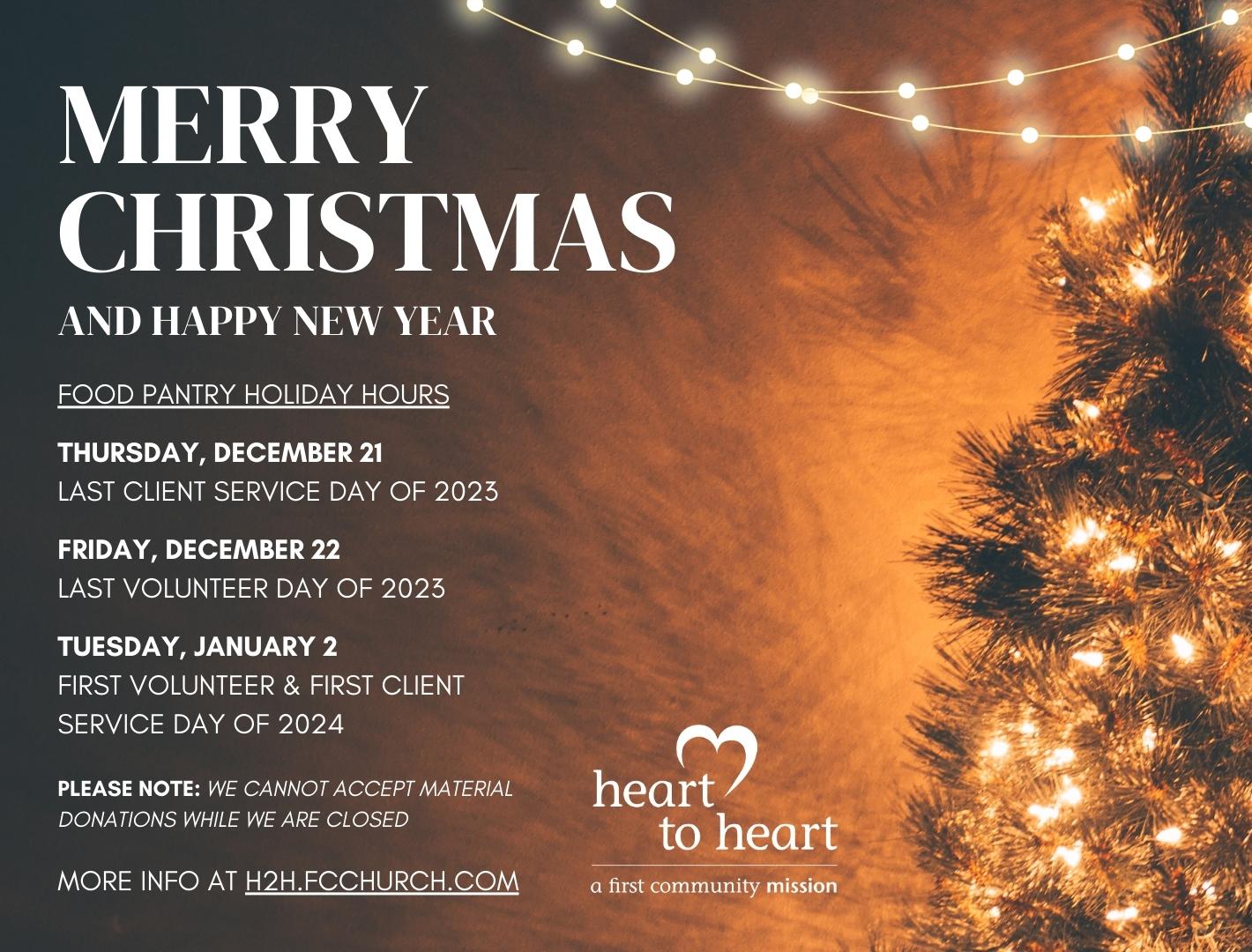 Volunteer Training Opportunities
Mid-Ohio Food Collective Trainings
The Mid-Ohio Food Collective offers regular training opportunities for food pantry staff and volunteers. Trainings on FreshTrak and Food Safety will help you learn more about pantry operations and make you an even more effective volunteer! They also occasionally offer training on advocacy, and other topics that may be of interest to you.
For most trainings, volunteers will need to register with an agency name and number: Heart to Heart Agency #1042
MOFC FreshTrak Basic Training
This online via zoom workshop will provide the fundamentals to get started with FreshTrak at your agency. Participants with learn how to administer the intake process using FreshTrak and will be guided on best practices for developing an efficient process in registering your clients. For agencies already using FreshTrak, this workshop will be helpful as a refresher of the basics.
MOFC Food Safety Training
Level 1 Person In Charge
We are excited to announce that MOFC/Agency Services is launching a brand new Person in Charge (Level 1) Food Safety Training developed by Feeding America and ServSafe.
This training is targeted to those who partner with foodbanks and is much more relevant to the work you are doing in your communities.
The new FA Food Safety will be offered, online, at no-cost to your agency AND even more exciting is the fact that once taken and successfully passed, the certification never expires for the person who takes the training!
The following dates and times are available: