Donation Match
As of this past weekend, we have officially surpassed our goal of a $20,000 match campaign! For the eighth year running, Jill and Duke Thomas have graciously made this matching pledge to support our mission to respond to God's commandment to love one another. Heart to Heart began serving the community in 1986, and still exists today thanks to the foundation laid by its task force and early leaders, including Jill. We are eternally grateful for the Thomas family's ongoing support of our mission.
Click to Donate
Sponsors Needed
Heart to Heart has been overwhelmed with calls requesting sponsorship for Christmas gifts. About 35 families still need sponsors. Please consider sponsoring one or more families through the purchase of Christmas gifts. We encourage group sponsorships. For instance, your guild, book club, or department at work can combine resources to provide support for an entire family. If you can sponsor a family, please email Kitty Rohrer kfrohrer@gmail.com with your contact details. More details about how the program operates are available at h2h.FCchurch.com/christmas2022.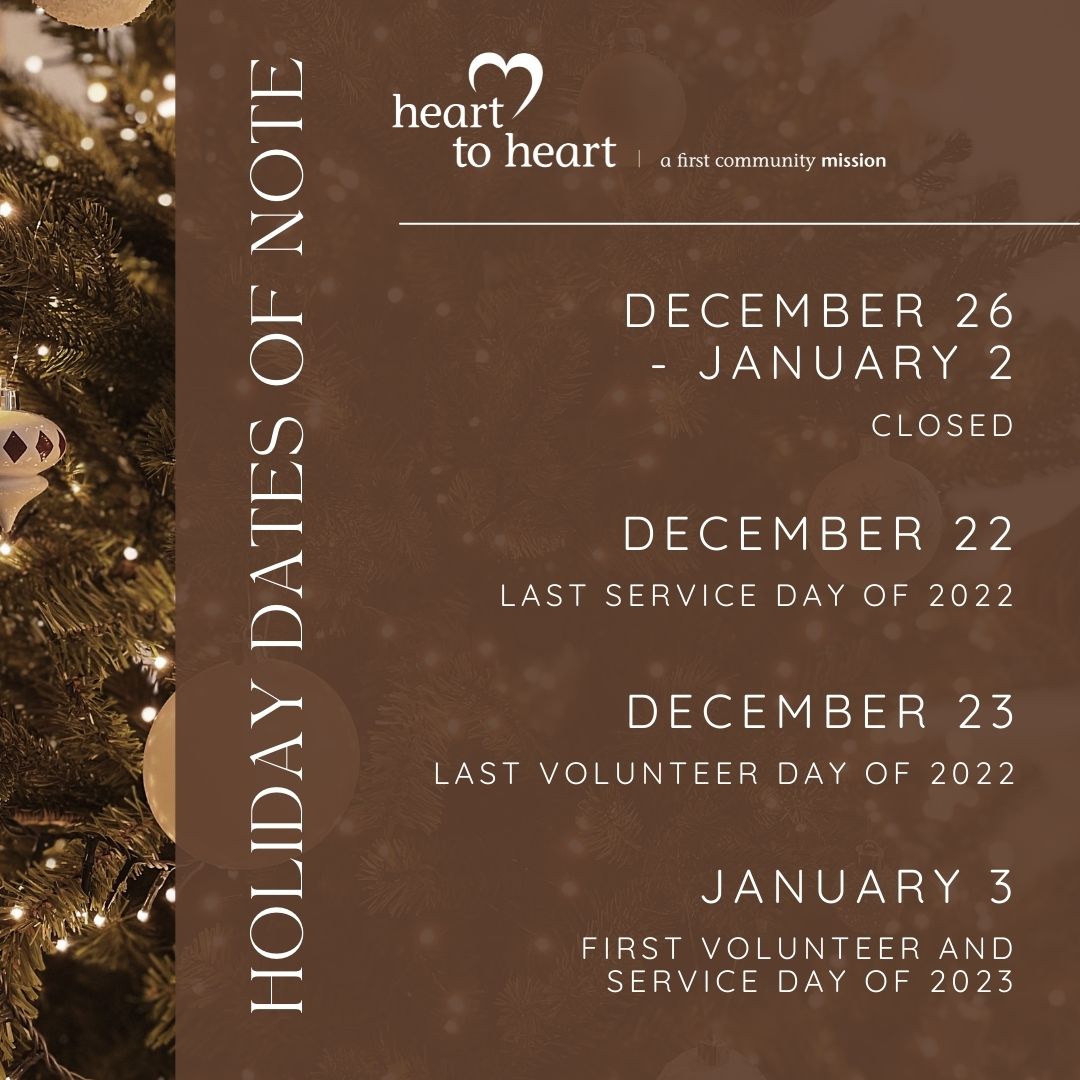 Communication
Are you getting our weekly "Full Pantry, Full Hearts" email? If not, please click here to change your email settings. This reflection email is written by Yohan each week and includes news and highlights from the previous week.
That email also includes a link to our weekly blog "Heart to Heart Happenings". This blog is written by Amy weekly and covers the administrative and business aspects of the food pantry. New policies, statistics, volunteer needs, etc. are all contained in this weekly post.
Are you following us on social media: Facebook or Instagram? This is a good way to get immediate news. As cold weather approaches, this is the fastest way to check if Heart to Heart is closed for inclement weather. View the weather policy here.
Did you get Amy's "December News" email on Tuesday, December 6? Click the button below to read it.
Volunteer Gifts
There is no way we could possibly show our appreciation enough for all the time, love and effort you put into volunteering. However, in an attempt to provide a token of appreciation, we have a Christmas gift for each of our volunteers. I encourage you to stop by First Community South and take a gift from under the tree in the Crane Welcome Center. Pat Porterfield and Janey Ledman have been wrapping gifts over the past couple weeks!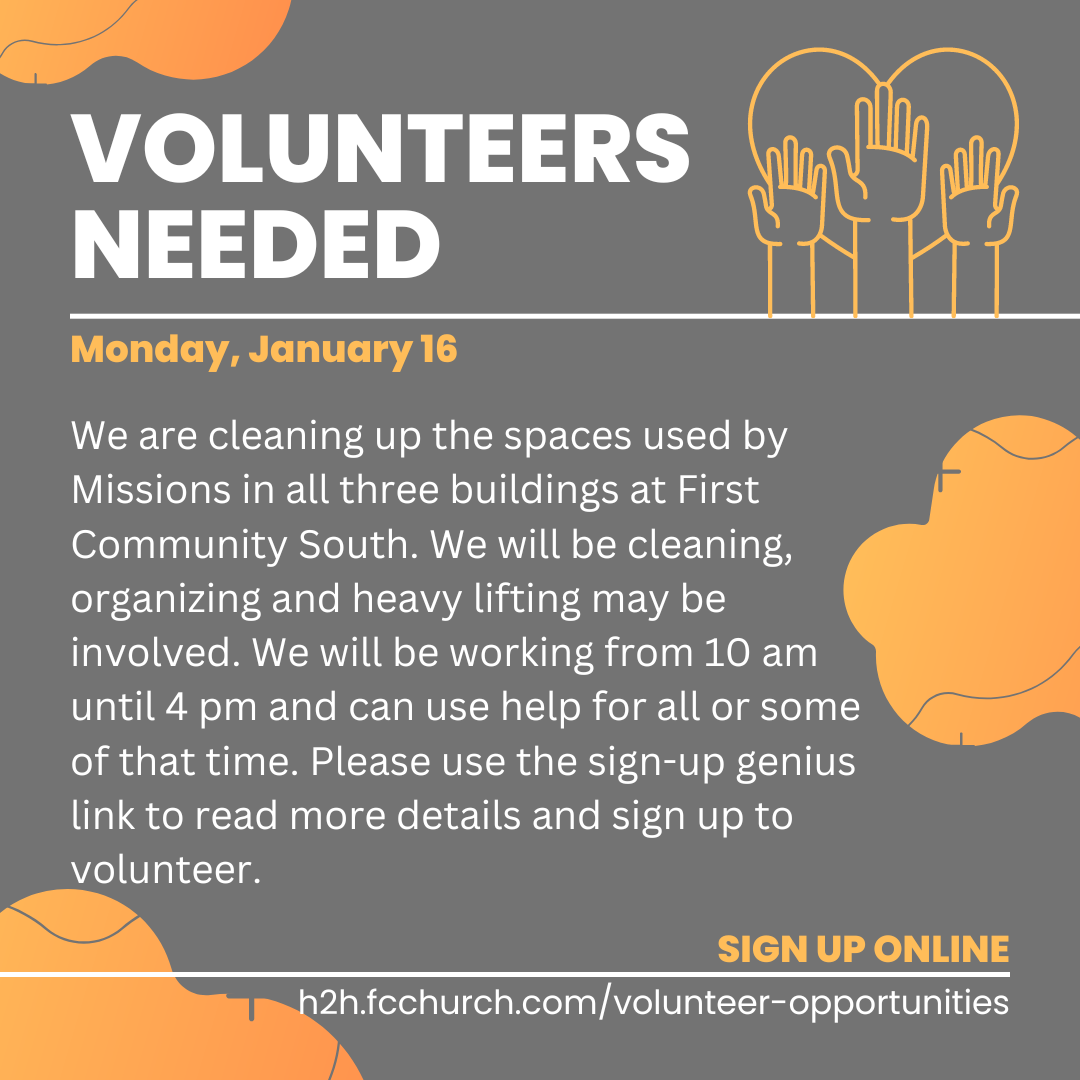 Missions Workday
In January, I have planned for another Mission Workday which will require a good amount of physical labor and focus primarily on cleaning up the spaces we use among all ministries throughout the three buildings at First Community South. This will take place on MLK Day, January 16, as we planned to be closed.
Click here to sign up
Weekly Numbers
Households served via Drive-Thru
59 on Tuesday, December 6
63 on Thursday, December 8
Households served via Pop-Up
35 on Wednesday, December 7
December News Email
Volunteers Needed
Monday, December 12
8:30am – 9:30am  Cold Stocking (1)
3:30pm – 5:00pm MOFB Truck Order Unload (7)
Tuesday, December 13
8:30am – 10:30am Drive-Thru (1)
10:00am – 12:30pm Drive-Thru (3)
Wednesday, December 14
1:00pm – 2:00pm Mid-Ohio Foodbank Shop-Thru (1)
Thursday, December 15
8:30am – 10:30am Drive-Thru (1)
Friday, December 16
9:00am – 10:00am Direct Retail Pickup (1)
Click here to sign up
And what does the Lord
require of you
But to do justice,
To love mercy,
And to walk humbly
with your God?
Micah 6:8 NKJ
Our mission at Heart to Heart is to respond to God's commandment to love one another.
Our vision of Heart to Heart is to model God's love by:
Cultivating a loving community
Honoring individual gifts
Feeding bodies and souls
…and seeing everyone as a child of God
In accordance with Federal law and U.S.D.A. policy, this institution is prohibited from discriminating on the basis of race, color, national origin, sex, age, religion, or disability.