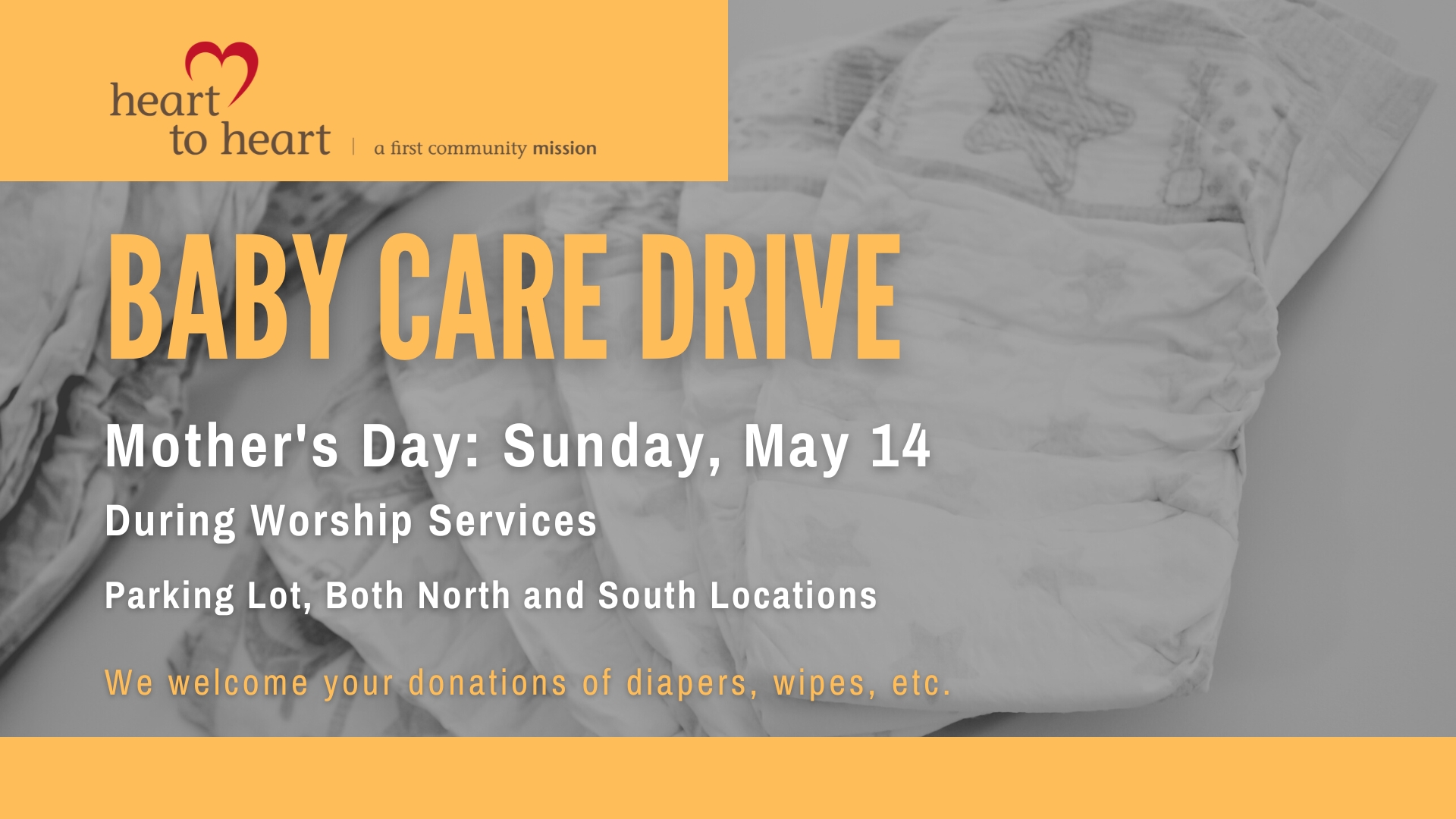 This Sunday
In honor of Mother's Day, we will be collecting diapers and wipes at First Community Church during worship.
If you are attending services at North, please look for the donation station sign in the parking lot and drop off your donations before you come inside! If you're attending services at South, please look for the donation cart at Crane Welcome Center, where you can drop off your donation with our volunteer. If you prefer to give online, click here.
Last year on Mother's Day we collected over 400 pounds in donations of diapers and wipes. This year our goal is to collect over 500 pounds! All diaper sizes and wipes are welcome!
Take advantage of some retail sales we found before this Sunday! Check out retailer websites for details:
At Target through May 13: $15 Target GiftCard when you buy 2 select enormous diaper packs.
At Kroger through May 13: Save $2.00 on Huggies Diapers when you buy ONE (1) Pkg
At CVS through May 13: Huggies, Pull•Ups and Goodnites Diapers BOGO 50% off* WITH CARD
At Sam's Club through June 4: Pampers Swaddlers $4 off with Instant Savings 3 items savings limit
At Meijer through May 13: $20.00 off when you spend $75 or More in Baby Dept
At Meijer through May 13: Pampers Swaddlers $4 off with Instant Savings
Donations Needed
Heart to Heart gladly accepts donations of goods in addition to monetary donations. All non-perishable donations are to be delivered directly to First Community South. Please leave them on the red cart marked for this purpose, which is in the alley across from the dumpsters, beneath the overhang, near the kitchen doors. This is the only area Heart to Heart can accept donations outside the building. Donations left elsewhere may not be received.
If you have a perishable donation (fruit, meat, etc.), please drop it off during these times so our volunteers can properly and immediately store them:
Mondays 8:30 am – 10:30 am, 4 pm – 6 pm
Wednesdays 4 pm – 6 pm
Fridays 9 am – 11 am
Please call (614) 488-0681 x203 upon your arrival, or to make arrangements ahead of your delivery.
In addition to the diapers and wipes drive, we are running low on these items and would appreciate donations of the following:
Canned Soups
Snacks
Canned meats
Canned veggies
Canned fruits
Mark Your Calendars!
We will be closed for Memorial Day on Monday, May 29 for volunteer shifts. An extra volunteer shift will be added to the schedule on Friday, May 26, to make up for it.
Next Sunday Donation Drive is June 18, Father's Day!
We will be closed for regular volunteer shifts on Monday,  June 19 for Juneteenth. There will be a Missions Workday instead. Stay tuned for details and a sign up.
Click the image above for a printable list of closures.
Kroger Rewards
Through the Community Rewards program, Kroger makes a contribution to Heart to Heart every time you shop. In the quarter beginning February 1, 2023 to April 30, 2023 we earned $962.35 from the 257 participating households.
Enroll your Kroger customer loyalty card in the program today. Visit kroger.com/i/community/community-rewards and choose Organization #TB926 (First Community Church).
See how much your participation earned for us last quarter!
Volunteers of the Month
May 2023: Janelle Soder and Alissa Marwaha
Volunteers Needed
Click the button below to view open shifts and sign up to volunteer online!
Monday, May 15
8:30 am – 9:30 am Cold Stocking (2)
5:00 pm – 6:30 pm Shop & Stock (3)
Tuesday, May 16
8:30 am – 10:30 am Drive-Thru (3)
10:00 am – 12:30 pm Drive-Thru (4)
Wednesday, May 17
1:00 pm – 2:00 pm MOFB Shop-Thru (1)
5:00 pm – 6:30 pm Shop & Stock (4)
Thursday, May 18
8:30 am – 10:30 am Drive-Thru (4)
10:00 am – 12:30 pm Drive-Thru (2)
Friday, May 19
9:30 am – 10:30 am Cold Stocking (2)
Click here to access SignUpGenius
Weekly Numbers
Households served via Drive-Thru (78)
54 on Tuesday, May 9
24 on Thursday, May 11
Households served via Pop-Up Pantry (59)
20 on Monday, May 8
39 on Wednesday, May 10
Monthly Statistics
Our service stats for April:
Households Served  497

Drive-Thru 352
Pop-Up Pantry     145

Individuals Served 1,751

Seniors 222
Adults 876
Children 653

Approximate Meals Served 15,759
Check out all our monthly statistics available at h2h.FCchurch.com/stats
Pop-Up Pantry
From Rose and Melody
To our wonderful Pop Up Pantry Volunteers,
Here is what we are a part of in some way.  Each month our Pop-Up gives many who come to Hope Resource Center the nourishment they need with love, compassion and hope.  However, we are only a small part of what happens at Hope.
All those devoted individuals who work and help at Hope Resource Center do amazing work.  Big things happen!  Read the testimony from Robert in this newsletter:
Happenings at Hope – Spring 2023 (thehoperesourcecenter.org)
Serving in Faith,
~Rose and Melody
Read more about the Pop-Up Pantry
Hunger & Poverty Activism and Education
If you're passionate about issues surrounding hunger and poverty, you may consider subscribing to and reading the following publications.
The newsletters regularly include useful updates and resources on these topics.