Prayer Requests
Do you know someone who needs a prayer or would you like to be placed on our Prayer Request list? Please click here to let us know.
Service Statistics
April 7, Tuesday: 42 households served
April 9, Thursday: 51 households served
COVID-19 Updates
Amid the ever-changing news regarding the COVID-19 outbreak, we have established a page on the website where you will find regular updates as they are announced. A link to this page will be on the left side of the menu permanently. We will continue to post these announcements on social media and via email, as well.
Read Latest Update (04-09-2020)
Columbus Public Health has compiled a list of resources available to Franklin County residents during the COVID-19 pandemic.
Click here for Resource List
Help Wanted
We need help unloading lots of food this coming Monday from MidOhio Foodbank! Click here to sign up.
Please note: Everyone is now required to wear a mask or face covering of some sort. Please bring face mask with you. Gloves will be provided.
New Partner
We would like to thank our new partner, Meijer, for their recent donations through Mid Ohio Food Collective!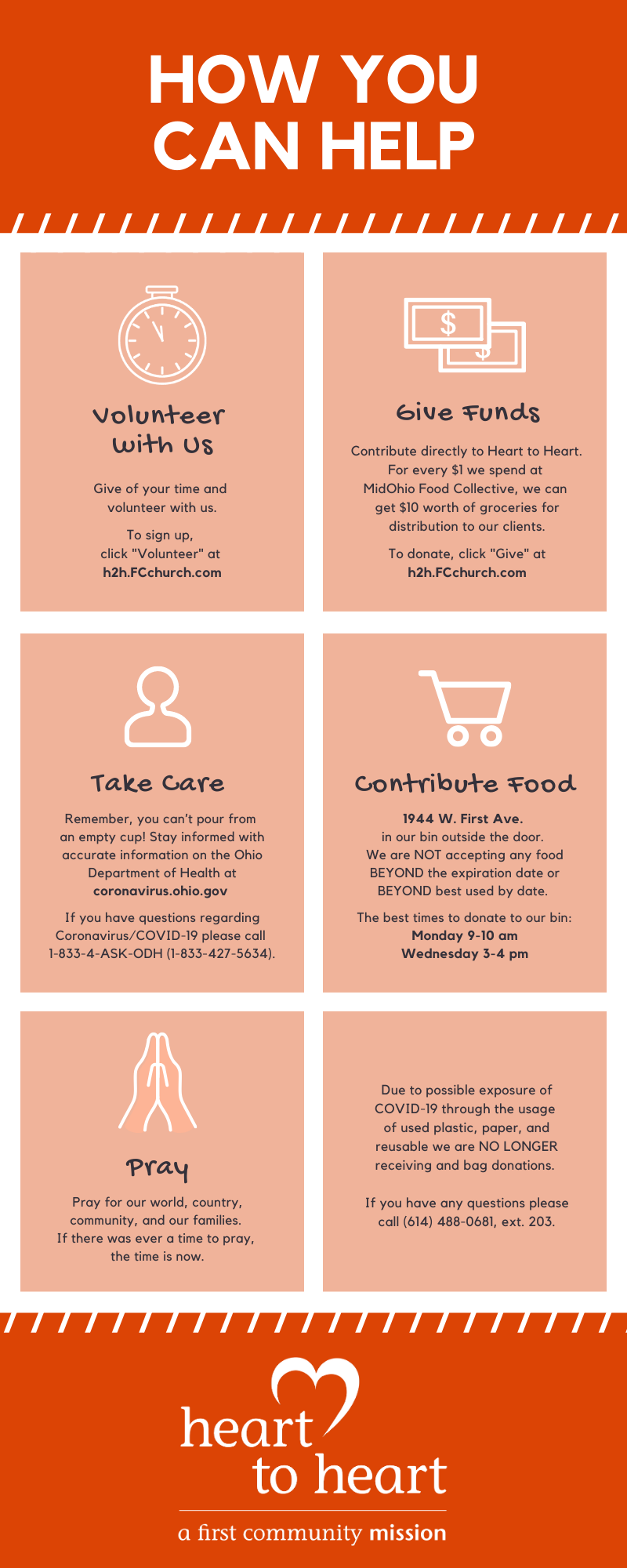 Many Thanks
Recently we had to move all the dry food stored in Lincoln Road Chapel from the basement to the main room, and some into the pantry. This project was a huge undertaking and would not have been possible without help from some strong volunteers! We owe a huge shoutout to Sam McCollum for bringing his brother Curtis, and some friends from Camp Akita to volunteer for this monumental task. Major thanks also to Wade Melnick President of the Tri-Village Rotary for bringing out members of his club along with their families. See before and after photos below.
And what does the Lord
require of you
But to do justly,
To love mercy,
And to walk humbly
with your God?
Micah 6:8 NKJ
Our mission at Heart to Heart is to respond to God's commandment to love one another.
Our vision of Heart to Heart is to model God's love by:
Cultivating a loving community
Honoring individual gifts
Feeding bodies and souls
…and seeing everyone as a child of God