Service Statistics
Households served via Drive-Thru
47 on Tuesday, August 10
48 on Thursday, August 12
Households served via Pop-Up
33 on Wednesday, August 11
As the school year begins, our volunteer need increases! Throughout the summer, many students use their daytime freedom to volunteer with Heart to Heart. Please note we anticipate an increased need in volunteerism over the next few weeks.
Volunteer Next Week
We still need help with some shifts next week. The number of volunteers needed is indicated in parenthesis after the shift time and description.
Monday, August 15
9:00 – 10:00 am Mid-Ohio Foodbank Shop Thru (1)

Tuesday, August 16
8:00 – 9:00 am Mid-Ohio Foodbank Shop Thru (1)
8:30 am – 10:30 am Drive-Thru (1)
10:00 am – 12:30 pm Drive-Thru (1)
Wednesday, August 17
1:00 pm – 2:00 pm Mid-Ohio Foodbank Shop Thru (1)
5:00 pm – 6:30 pm Shop & Stock (1)
Thursday, August 18
8:00 – 9:00 am Mid-Ohio Foodbank Shop Thru (1)
8:30 am – 10:30 am Drive-Thru (5)
10:00 am – 12:30 pm Drive-Thru (3)
Friday, August 19
9:30 am – 10:30 am Cold Stocking (1)
10:00 – 11:30 am Preshop (3)
Click here to sign up
School Supply Drive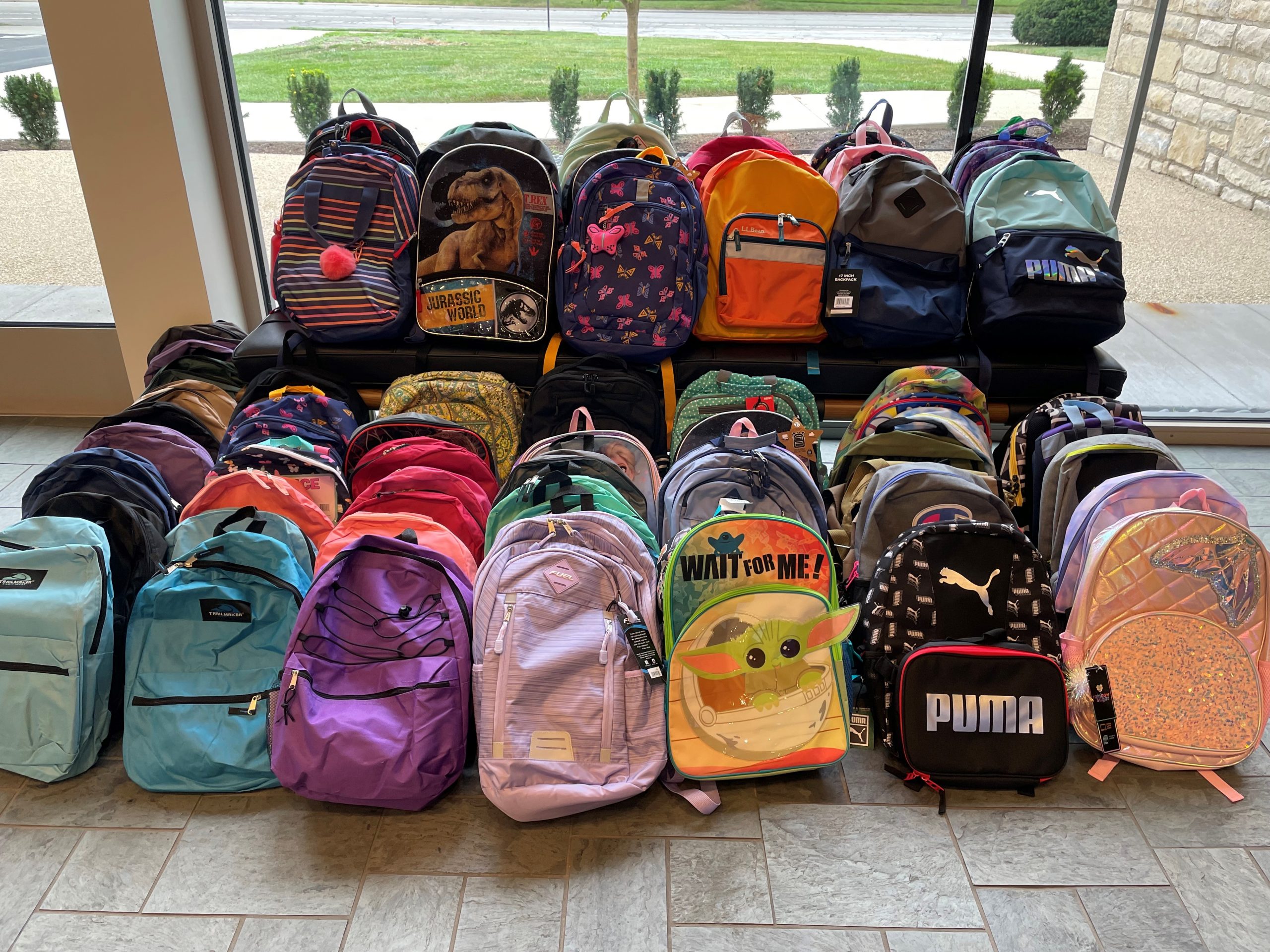 Thank you to everyone that donated backpacks and school supplies last week. Thanks to church members, volunteers and neighbors, we were able to collect  98 backpacks filled with supplies to students in need in time for the new school year. The majority of these bags will be delivered by our Pop-Up Pantry to Riverview International Center next Monday. Once again, we are amazed by the generosity in our community!
Farewell, Kate!
Thank you for joining us at the reception for Rev. Kate Shaner after the 10am worship last Sunday. We were able to joyfully celebrate and give thanks for her years of service to First Community.  Please enjoy viewing both the video that was on loop during the reception, and a video of the benediction and blessing at the end of the service.
To show our deep love and gratitude for all Rev. Kate Shaner has done for First Community, the congregation will present her with a monetary gift. To participate, please send your check made payable to First Community Church and note "Kate Shaner Love Gift" in the memo line. If you would like to sent a personal note to Rev. Shaner, please mail these to the church, ℅ Amy Caskie at 1320 Cambridge Blvd Columbus, OH 43212.
If you have any questions, or would like to get in touch with Kate personally, please contact Amy Caskie.
In September, First Community Church's Youth Ministry will resume their weekly Wednesday evening service hours for Heart to Heart. If you will miss your regular Stock & Shop shift once the summer ends, you have a unique service opportunity on Wednesday evenings in September! We will need 2 volunteers every Wednesday evening to staff our booth at the Upper Arlington Farmer's Market. Please contact Amy Caskie for more information if you are interested.
Heart to Heart will be closed on Monday, September 5 for Labor Day.
Heart to Heart will be closed for the week of September 12 through 16. During this time we will deep clean, make repairs, evaluate procedures and prepare for the coming months. This is an opportunity for our devoted volunteers to take time off and recharge.
Food Safety Training
This training will be held via Zoom meeting. By the end of this course, you will be able to:
Identify food safety risks.
Take appropriate action when someone has symptoms of foodborne illness or is diagnosed with a reportable disease.
Follow good personal hygiene and hand care practices.
Identify cross-contamination risks and methods for prevention.
Implement effective cleaning and sanitizing procedures.
Identify appropriate pest prevention measures and signs of pest infestations.
Maintain facilities and equipment in compliance with regulations.
Heart to Heart is Agency #1042
Darkness to Light
This training will be taught by Julie Richards, Director of K-5 Ministry at First Community Church. The safety of the children we serve is our top priority, so anyone who volunteers with children or is a staff member is required to attend our Darkness to Light sexual abuse prevention training. Re-certification for staff or volunteers who work with children is required every three years. Please register to attend one session at First Community North.
Ohio Benefits Training
Participants in this training will gain a better understanding of ways to connect eligible individuals to SNAP Benefits, including the ability to pre-screen and use Ohio Benefits Self Service Portal .
Participants will discuss ways to connect clients to social Benefits such as SNAP/Medicaid/ and OWF.

Participants will take away how to submit SNAP/ Medicaid/ OWF benefits using Ohio Benefits Self Service Portal.

Best tips and tricks in navigating common barriers to assisting individuals.
Heart to Heart is Agency #1042
Fresh Trak Basic Training
This Zoom workshop will provide the fundamentals to get started with FreshTrak at your agency. Participants with learn how to administer the intake process using FreshTrak and will be guided on best practices for developing an efficient process in registering your clients. For agencies already using FreshTrak, this workshop will be helpful as a refresher of the basics. You must register with your name, email address and phone number as well as your
Heart to Heart is Agency #1042
August 25, 2pm or 7pm
Register online at mofc.org/agency-360
And what does the Lord
require of you
But to do justice,
To love mercy,
And to walk humbly
with your God?
Micah 6:8 NKJ
Our mission at Heart to Heart is to respond to God's commandment to love one another.
Our vision of Heart to Heart is to model God's love by:
Cultivating a loving community
Honoring individual gifts
Feeding bodies and souls
…and seeing everyone as a child of God
In accordance with Federal law and U.S.D.A. policy, this institution is prohibited from discriminating on the basis of race, color, national origin, sex, age, religion, or disability.