Statistics
Drive-Thru Households Served
55 on Tuesday, September 19
51 on Thursday, September 21
Pop-Up Households Served
40 on Wednesday, September 20
Miscellaneous Reports
Donations Needed
The food pantry is running low and could use donations of the following items:
Jelly/Jam
Canned Vegetables
Canned Fruits
Pancake Syrup
Boxed Dinner Kits
Please visit h2h.FCchurch.com/donate for instructions
Volunteers Needed
These are the spots we still need filled for next week!
Monday, September 25
8:30am- 9:30am Cold Stocking Shift (2)
Tuesday, September 26
8:30am- 10:30am Drive-Thru: Opening Shift (6)
10:00am-12:30pm Drive-Thru: Closing Shift (5)
Wednesday, September 27
1:00pm- 2:00pm MOFB Shop Thru (1)
Thursday, September 28
8:30am- 10:30am Drive-Thru: Opening Shift (3)
Friday, September 29
9:30am- 10:30am Cold Stocking (2)
Sign up to Volunteer
Community Bulletin Boards
Does your favorite local café, library or bookstore have a community bulletin board? Let us know! We are always looking for more volunteers at Heart to Heart. You can help us spread the word about the opportunities by getting flyers on these bulletin boards. If you frequent an establishment with space to hang a flyer please get in touch with us. We can give you a flyer to take and hang up (example pictured), or we can send them information directly.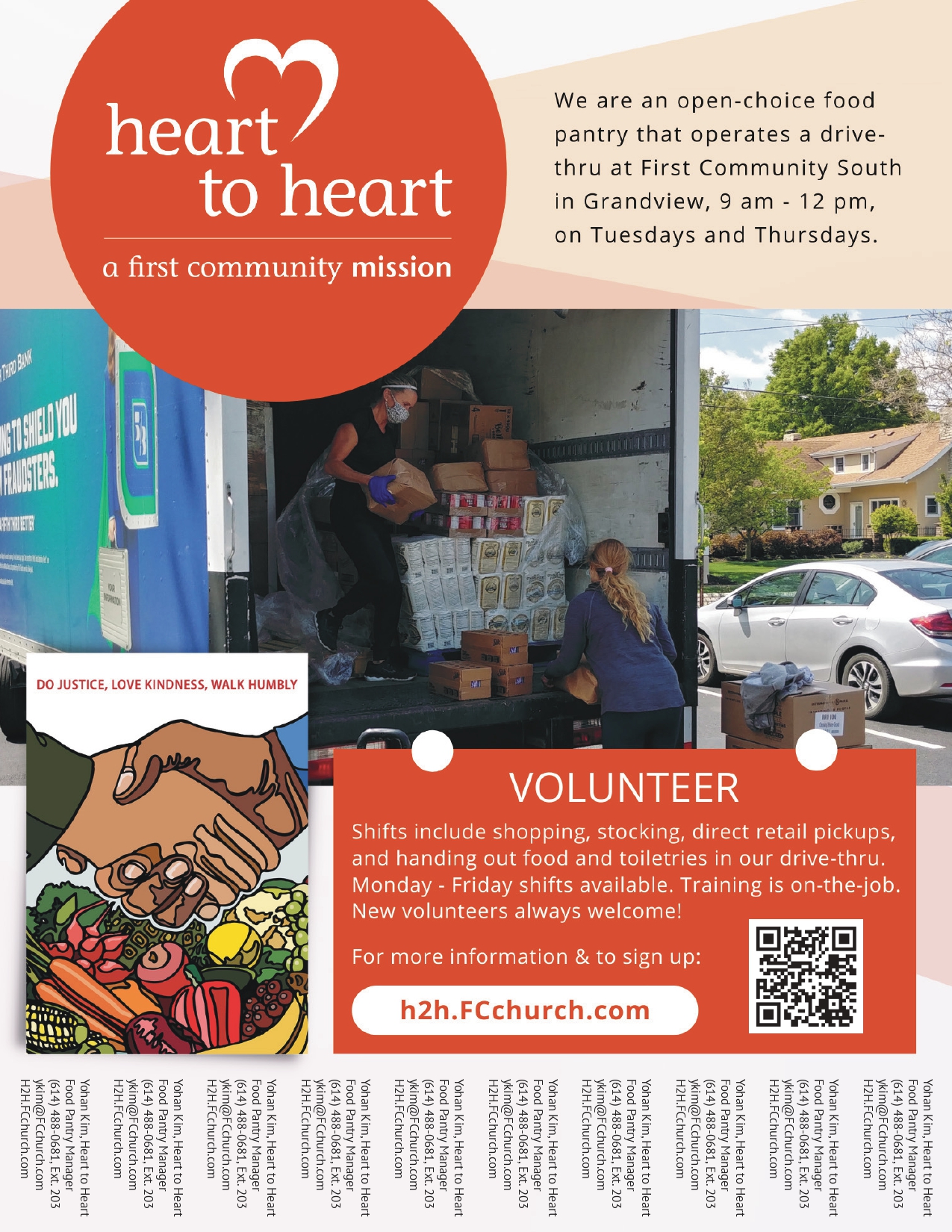 Special Skills
We understand not everyone can or wants to volunteer during our regular weekly shifts, but may still want to contribute to our overall success. Heart to Heart is on the lookout for a few volunteers with specialized skills to help with projects from time to time. Please let us know if you have a particular interest or are skilled in:
Woodworking, DIY, Building
Social Media
Community Advocacy
Elementary Education
One time assembly projects (eg. birthday bags)
While we may not have a related project in mind at the moment, these are some needs we have encountered over time and we would love to know who might be interested in helping with these things in the future. Have another skill or interest you think may be useful? Let us know!
Volunteer Training Opportunities
Mid-Ohio Food Collective Trainings
The Mid-Ohio Food Collective offers regular training opportunities for food pantry staff and volunteers. Trainings on FreshTrak and Food Safety will help you learn more about pantry operations and make you an even more effective volunteer! They also occasionally offer training on advocacy, and other topics that may be of interest to you.
For most trainings, volunteers will need to register with an agency name and number: Heart to Heart Agency #1042
MOFC FreshTrak Basic Training
This online via zoom workshop will provide the fundamentals to get started with FreshTrak at your agency. Participants with learn how to administer the intake process using FreshTrak and will be guided on best practices for developing an efficient process in registering your clients. For agencies already using FreshTrak, this workshop will be helpful as a refresher of the basics.
Thu, Oct 12, 2pm
Wed, Nov 15, 10am
MOFC Food Safety Training
Level 1 Person In Charge
We are excited to announce that MOFC/Agency Services is launching a brand new Person in Charge (Level 1) Food Safety Training developed by Feeding America and ServSafe.
This training is targeted to those who partner with foodbanks and is much more relevant to the work you are doing in your communities.
The new FA Food Safety will be offered, online, at no-cost to your agency AND even more exciting is the fact that once taken and successfully passed, the certification never expires for the person who takes the training!
The following dates and times will be available to choose from:
Thu, Sep 28, 2pm
Tue, Oct 10, 2pm
Mon, Nov 6, 10am
Tue, Dec 5, 2pm