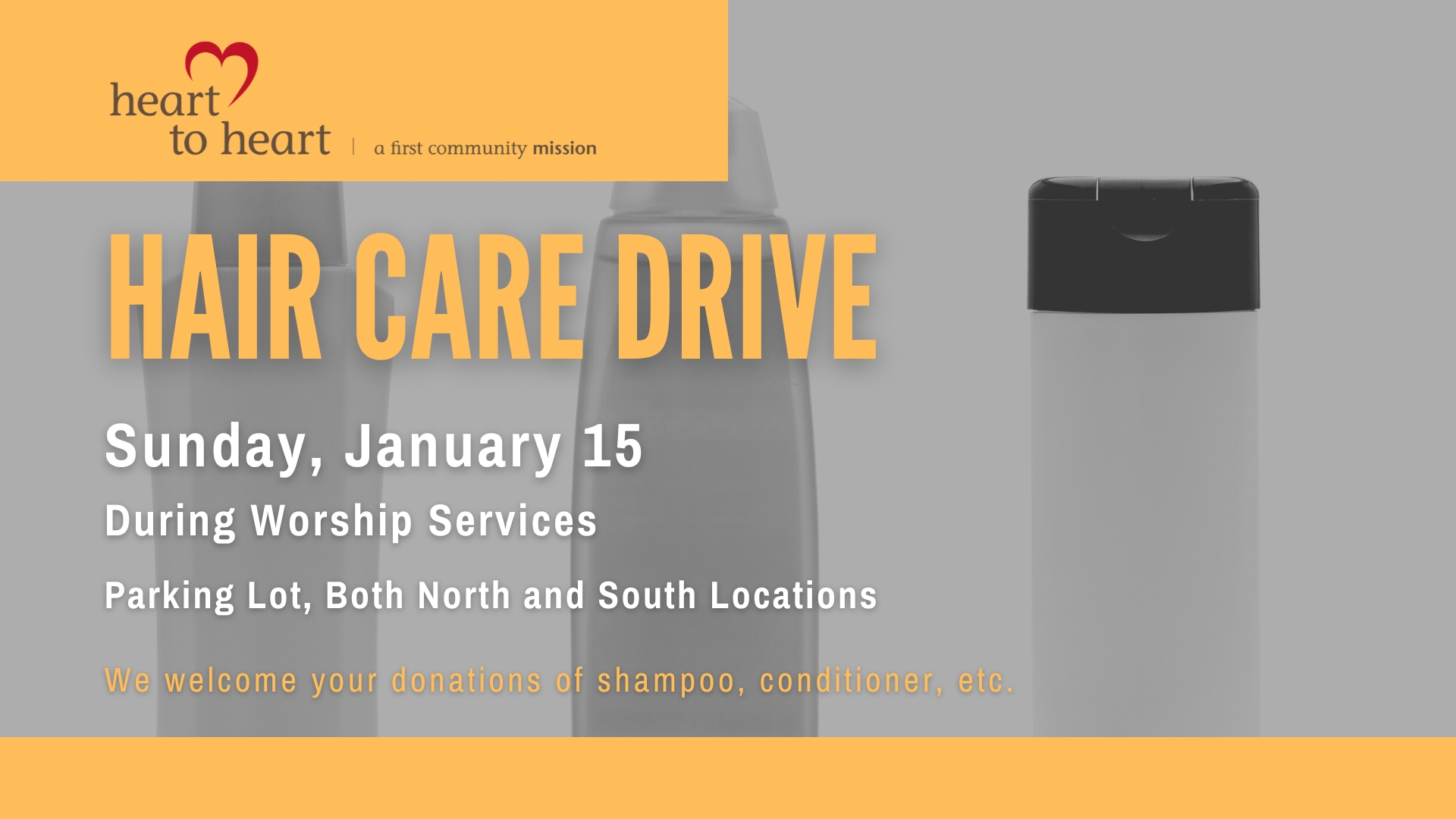 Monthly Collection Drives
In 2023, Heart to Heart food pantry will hold a once-a-month donation collection during Sunday worship services, in an effort to make donating items easier. This Sunday, the food pantry will be collecting haircare products during all worship services. If you are attending services at North, please look for the donation station sign in the parking lot and drop off your donations before you come inside! If you're attending services at South, please look for the donation cart at Crane welcome center, where you can drop off your donation with our volunteer. If you prefer to make a monetary donation online, please click here.
Reminders
Over the holidays, we often lose track of time. Understanding it can be a challenge to remember all that is going on in the new year, here's a list of announcements from the end of last year:
Weekly Numbers
Households served via Drive-Thru
41 on Tuesday, January 3
35 on Thursday, January 5
Households served via Pop-Up
35 on Wednesday, January 4
Volunteers Needed
Please check to see when you can help, then use the button to access the Sign-Up Genius!
Monday, January 9
8:30-9:30 am MOFB Shop Thru (1)
3:30-5:00pm MOFB Order Unloading (7)
5:00-6:30 Shop & Stock (5)
Tuesday, January 10
8:30-10:30 am Drive-Thru (3)
10:00 am – 12:30 pm Drive-Thru 6
Wednesday, January 11
1:00 – 2:00 pm MOFB Shop-Thru (1)
Thursday, January 12
8:00 am – 9:00 am MOFB Shop-Thru (1)
8:30 – 10:30 am Drive-Thru (6)
10:00 am – 12:30 pm Drive-Thru (1)
Friday, January 13
9:30 am – 10:30 am Cold Stocking (1)
11:00 am – 12:30 pm Shop & Stock (7)
Click here to sign up
Pop UPdate
In December, the Pop Up Pantry, delivered to the following sites:
Dec 7:       Commons at Livingston – 35
Dec 14:     Hope Resource Center – 33
Dec 21:     Southpoint – 38
Dec 22:     Riverview International Center – 32
Dec 28:     Grant – 20
Total served for the month of Dec:   158
Pop Up 2022 Monthly totals:
January:         161
February:       159
March:           154
April:              162
May:               162
June:              225
July:               187
August:           210
September:    174
October:         177
November:     178
December:     158
2022 Total:           2,107 Individuals/families served
Click here to read the entire update from December.
Each month, we highlight a volunteer (or small group). You can read about Lynn and all the past volunteers of the month by clicking the link below.
Read More
Happy to Help
Thanks to all our sponsors that participated in the Holiday Help program for Heart to Heart. We have received some kind responses from the families sponsored:
"Thank you so much again for the gifts and gift cards! I seriously cannot thank you guy enough. You helped provide actual gifts for my children and I'm beyond grateful that you are helping make this an amazing Christmas for them!"
"Thank you so much. This touched my heart. I'm so grateful for everything it means the world to me."
"God Bless U and your family. Appreciated"
"Thank you very much, my dear, for the gift of the children, they became very happy and happy. Thank you from my heart, happy night to you😊"
"Thank you so much for the gifts I received this morning my kids were soo happy with it and I was blessed too. Thank you again merry Christmas and happy new year 🎊:)"
The kindness shown obviously made a huge positive impact on these families. Thank you for your generosity.
We would like to give a special thank you to:
Girl Scouts
Northwest Kiwanis
Santa's Silent Helpers
First Community's Youth Program
These groups went above and beyond the call, providing gifts for several families each.
Training Opportunities
The Mid-Ohio Food Collective offers regular training opportunities for food pantry staff and volunteers. For volunteers, the most useful trainings are FreshTrak and Food Safety. These trainings, specifically, will help you learn more about pantry operations and make you an even more effective volunteer! They also occasionally offer training on advocacy, and other topics that may be of interest to you.
Some of these classes are in person on the MOFC campus in Grove City. However, many are Zoom meetings, so you can participate from home. If you would like to take advantage of these opportunities to learn, please visit the Agency360 website for detailed information and links to sign up.
For most of the classes, you'll need to sign up with our pantry name and ID:
Heart to Heart, Agency #1042
Upcoming Trainings
Jan 26, 2pm, FreshTrak
Feb 14, 9am, FreshTrak
Feb 21, 9:30am, Better Relationships
Mar 13, 9:30am, Advocacy
Mar 14, 2pm, FreshTrak
Click here to access Agency360
And what does the Lord
require of you
But to do justice,
To love mercy,
And to walk humbly
with your God?
Micah 6:8 NKJ
Our mission at Heart to Heart is to respond to God's commandment to love one another.
Our vision of Heart to Heart is to model God's love by:
Cultivating a loving community
Honoring individual gifts
Feeding bodies and souls
…and seeing everyone as a child of God
In accordance with Federal law and U.S.D.A. policy, this institution is prohibited from discriminating on the basis of race, color, national origin, sex, age, religion, or disability.